Speaking before Members of Parliament and several members of the Diplomatic Community, President David Granger told the National Assembly that Venezuela's ongoing threats remain an offense to Guyana's sovereignty.
He said the new decree issued by Venezuela, still stands as a "bone in Guyana's throat" since it threatens the use of force in Guyana's exclusive economic zone.
Venezuela's President Nicolas Maduro on Tuesday replaced his May 27 decree, which coveted Guyana's oil rich maritime space, with a new decree which does not have any defining coordinates.
But President Granger told the National Assembly that the new decree contains a general description of Venezuelan defense zones with some consistency with the previous version.
He said Guyana will seek out all diplomatic actions as its first line of defense. "Guyana has never used aggression against any state and always embraced principle peaceful settlement of disputes. But as much as we are a peace-loving nation we will never allow our territorial integrity to be violated," the President stated.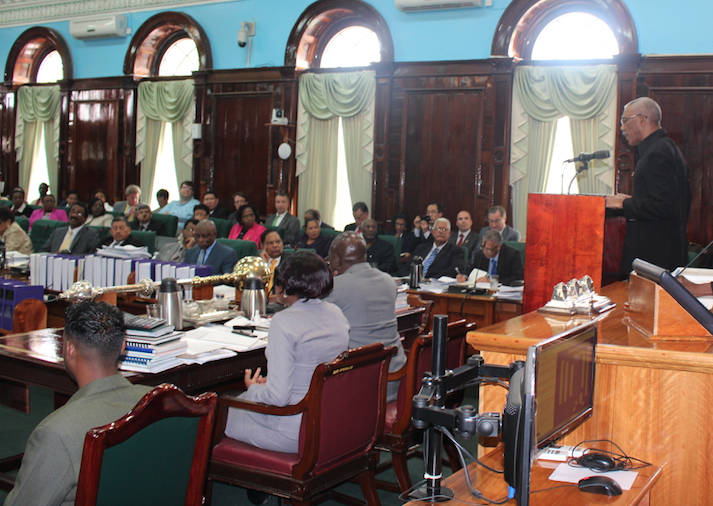 The President also told the Parliament that Guyana has never used aggression against any nation and he promised that it never will.
He also stated that the country has never discouraged investors willing to invest in other countries and will not condone any country attempting to do the same to Guyana.
"Guyana seeks friendly relations with its continental nations and the Caribbean Community," he added.
President Granger insisted that it was his government's expectation that its neighbor would observe all formally ratified documents between the two states in the decades old border issue.
He denied any aggression from Guyana's end against Venezuela as he reminded of the move by President Maduro to recall his resident Ambassador in Guyana while ordering a reduction in the embassy staff here and a review of all diplomatic relations with Guyana.
Mr. Granger maintained, as he did at the recent 36th CARICOM Heads of Government summit in Barbados, that Venezuela has no right under the Geneva agreement or international law to reject exploration offshore Guyana. He aid both decrees issued by Venezuela were in fact an act of aggression against Guyana for which it sought the solidarity of the international community.
The Commonwealth, CARICOM, the Organization of American States and the United State government have all condemned Venezuela's actions.
The President recalled several infringements on Guyana's economic advancement over the last 50 years including the 2013 seizure of  a vessel in Guyana's exclusive economic zone. He said gunboat diplomacy will not be allowed to continue.