A Guyanese born, Philadelphia man accused of being high while operating a construction crane on a downtown city building that eventually collapsed and killed six people turned himself in today, Philadelphia police said.
Sean Benschop, 42, of 4900 Block of North Seventh Street, turned himself into detectives, police said.
Benschop faces six counts of involuntary manslaughter, 13 counts of recklessly endangering another person and a single count of risking a catastrophe.
Authorities said Benschop was using an excavator Wednesday when what was left of the four-story building gave way and fell on top of a neighboring Salvation Army thrift store.
A toxicology report, witness statements and other evidence shows Benschop was high on marijuana that day, Deputy Mayor Everett Gillison said on Friday.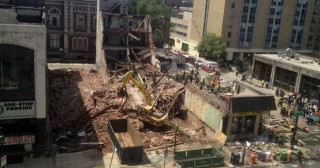 Benschop, who also goes by the name Kary Roberts, has been arrested at least 11 times since 1994 on charges ranging from drugs to theft to weapons possession, according to court records. He was twice sentenced to prison in the 1990s after being convicted on drug trafficking charges. Benschop's last arrest, for aggravated assault, came in January 2012, but the case was dismissed for lack of evidence.
Among those killed was a woman who was working her first day at the store. Thirteen people were hurt.
Video shot of the scene shortly before the fatal collapse show bricks falling onto a sidewalk, which remained open to pedestrians, as a worker used heavy equipment to take out a front wall.
Some accusations of responsibility were lobbed at demolition contractor Griffin Campbell.
Campbell violated several federal safety regulations, while building owner Richard Basciano should have picked a more qualified and competent contractor to do the work, said Robert Mongeluzzi, another of White's attorneys.
"This is the most egregious construction accident I think I've ever been involved in," said Mongeluzzi, who has represented hundreds of plaintiffs in construction accidents and is considered a top lawyer in the field.
The collapse has brought swift and mounting fallout in a city where demolition contractors are lightly regulated. Officials have begun inspecting hundreds of demolition sites citywide, and a city councilman charged that dangerous, under-the-radar tear-downs are taking place throughout Philadelphia.
The city is also preparing to implement sweeping changes in its regulations of building demolition, Mayor Michael Nutter said Friday, adding that every active demolition site is being inspected for safety.
"We will not accept the status quo in the face of this tragedy," Nutter said.
(leighvalleynews)