A group of Guyanese law students at the Hugh Wooding Law School who are entering their second year met with Attorney General Basil Williams this morning to register their concern about some of the problems they are facing at the regional law school in Trinidad and Tobago.
The meeting was requested by the students.
Student representative Olivia Best explained to the media and the Attorney General that for many Guyanese law students at Hugh Wooding, it is tough on them and their families.
She explained that students are faced with a $5 million per year bill, which includes tuition and living expenses, for the two-year programme.
"It is not easy for the Guyanese students in Trinidad and Tobago to function properly and to even study properly even though, we do perform well, but it is not an easy task", Ms. Best said.
The University of Guyana law graduate said she has seen many of her fellow students being moved to tears because of the hardship that they face with their families.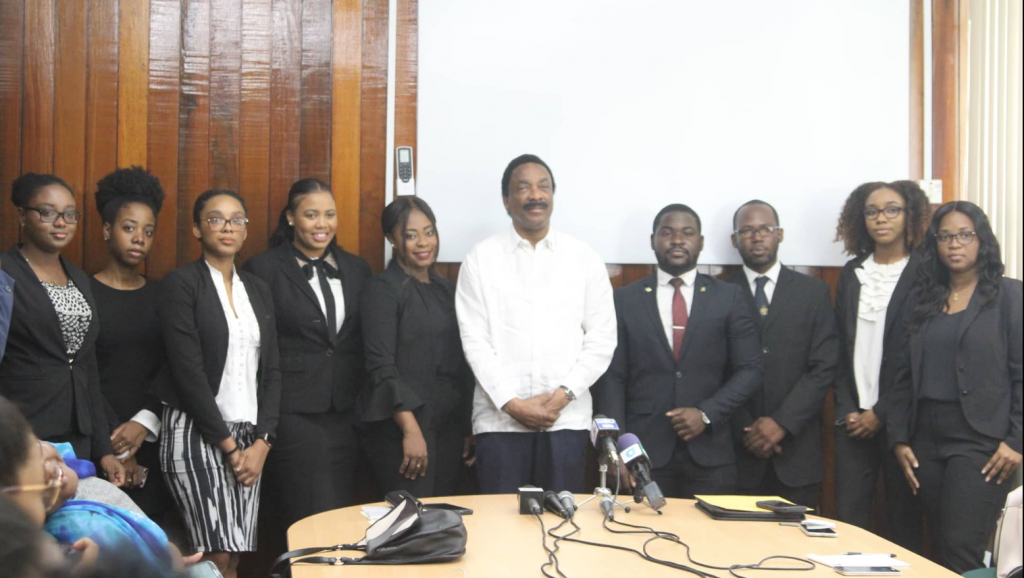 She said students welcome the decision by the Government to open up full scholarships for the Hugh Wooding Law School.
Those scholarships are being handled by the Department of Public Service and the application period is now open.
Attorney General Basil Williams said the problems faced by Guyanese law students in Trinidad and Tobago is one of the reasons the Government of Guyana decided to offer the law school scholarships and to also not give up its effort to have a law school established here in Guyana.
He said the Government of Guyana will continue with its quest to have a law school located here.
There was a move to have a public-private initiative to establish a law school here, but that effort was shot down by the Council of Legal Education, which falls under CARICOM.
Still, Mr. Williams said the government continues to explore the possibility.
Under an existing agreement with the Hugh Wooding Law School, the Government of Guyana covers 25% of their expenses to attend the law school.
Some of the students had raised a concern about the money for the 2018/2019 academic year not being paid on time. The Attorney General said the problem is being addressed. He said the money was budgeted and approved and should have been paid on time.
He claimed that an issue related to the Finance Department might have triggered the problem, but News Source understands that the department was awaiting a full document from cabinet about the approval.