While asking Guyanese to be patient, President Irfaan Ali has indicated that the ground work is being set for massive expansion of the country's economy in the oil and non-oil sectors.
Speaking at the annual Gala dinner of the Georgetown Chamber of Commerce and Industry (GCCI), the President said his government is working to ensure the country takes center stage in food and energy security, environmental matters among others, even as the country's economy is projected to grow rapidly over the next few years.
"So we are going to work and deliver this future in a very projected way s0 that whole shape and form of government will be changed completely to match the aggression and transformation, that is required to take our country forward," the President said.
The President acknowledged that the country has faced serious challenges over the last few years at various levels,  but noted that serious works have started to ensure recovery.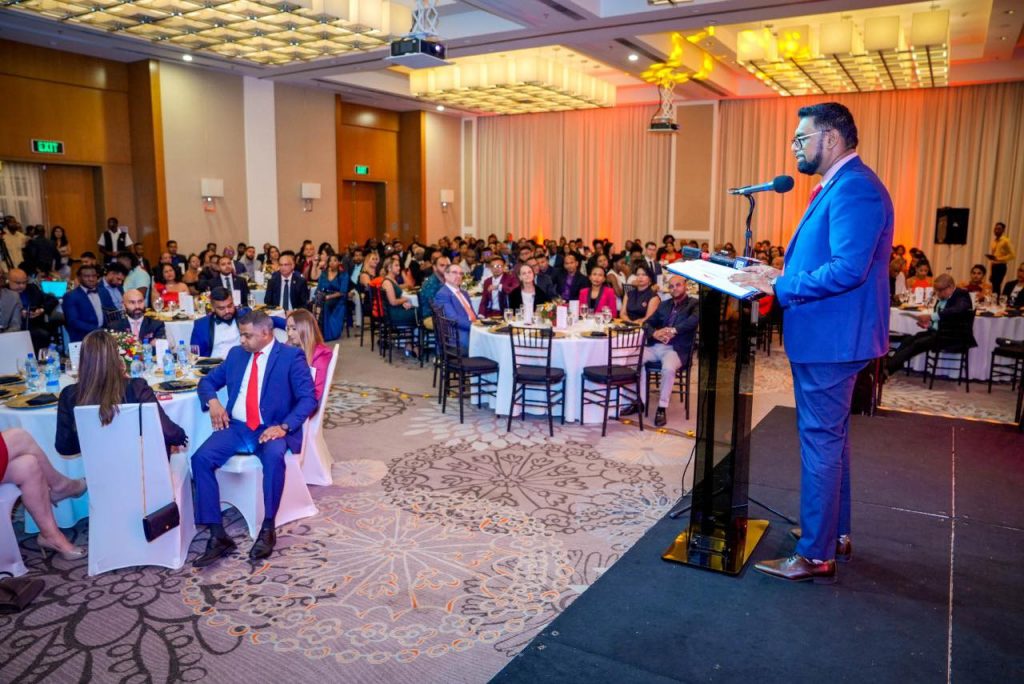 "We have had many challenges from 2020-2022 we had varied weather pattern, mostly rain and lots of flooding, this has taken a toll on our traditional sector—weather is rice, sugar or the Agriculture sector as a whole. Notwithstanding a global environment where we were importing inflation, where the cost of shipping went up more than 1000% and the shortage of nurses and the manufacturer sector was in contracting mode, we were able to replenish our gold reserve 2022 and 2021 by $4.1b" the President said.
According to President Ali, the opportunities are numerous and everyone must be on board if the country is to be successful.
He said the country is currently operating on a different scale but continues to face the critical challenge of labour shortage which can hamper growth and fast-paced development.
"Labour shortage is affecting not only public sector project, but also private sector. The increasing cost of labour—we have also seen the return of highly skilled/trained Guyanese but with an increase cost of labour. We are working on a migration strategy, examining various country models," the President said.
The President has assured that the country is on the right developmental path and has asked Guyanese to position themselves to cash in.