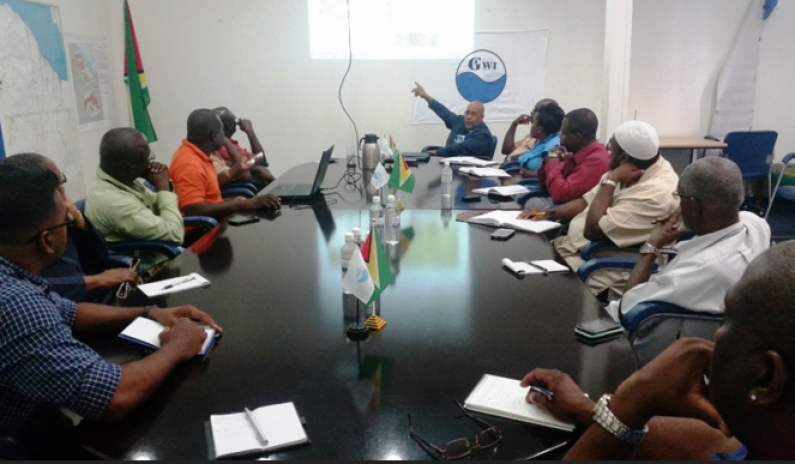 The Guyana Water Incorporated continues to take precautions and be concerned about the falling water level in the East Demerara conservancy as the dry weather pattern continues.
Today, Chief Executive Officer of GWI, Dr. Richard Van West Charles and other company officials met with various stakeholders including representatives of hotels in Georgetown, the Georgetown Public Hospital Corporation (GPHC), Balwant Singh Hospital, Davis Memorial Hospital, St. Joseph Mercy Hospital, Woodlands Hospital and the Guyana Fire Service to brief them about the changes at the East Demerara Water Conservancy and the effect on water service within Georgetown.
Dr. Van West-Charles told the meeting that the further decrease in the level of the East Demerara Water Conservancy has resulted in GWI reducing service within the city from 22:00hours (10:00PM).
That decision went into effect on Wednesday, February 4, 2016.
He also advised that in light of the reduced service from 10:00pm daily, all hotels, hospitals, restaurants and other service oriented entities must commence preparations to store water.
According to a GWI statement, the CEO emphasized that residents must be cautious when storing water, pointing out that all water used for food preparation, brushing of teeth, and other personal uses, must be stored in a covered container to avoid contamination.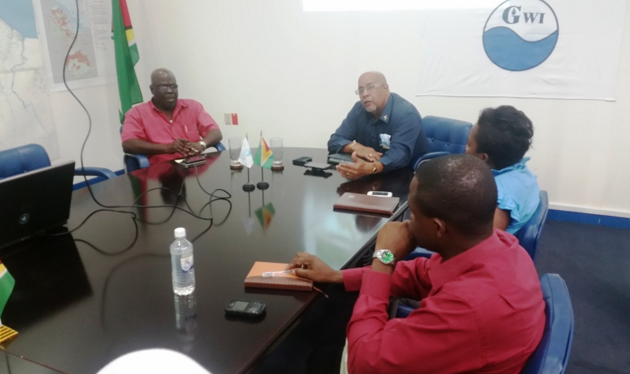 Customers are also being asked to be vigilant for leaks and to avoid wastage.  "Leaks are a significant problem within the distribution network", Dr. Van West-Charles stated while adding that 'we urge all customers to report leaks immediately to GWI and to ensure that all internal plumbing is functioning properly'.  He also invited customers to contact GWI for advice regarding the operation of their internal plumbing.
GWI has formulated a plan with the Guyana Fire Service to ensure adequate water supply is available in the event of a fire within the city.
 Stakeholders have been assured that while there has been a further decrease in the level of the Conservancy, GWI is working with the National Drainage and Irrigation Authority (NDIA) to ensure adequate water is available for customers of Georgetown.
Currently, several interventions are being executed.  The NDIA is pumping water from the Maduni River into the Conservancy which facilitates adequate water supply distribution via the Shelter-Belt Water Treatment Facility at peak periods.
For updates, customers can call GWI's Customer Services Call Centre on 227-8701, 227-8703, 227-8704 or email: customercallcentre@gwi.gy, tweet: @guyanawaterinc, visit www.gwiguyana.com or 'like' GWI on Facebook: www.facebook.com/everydropcountsgy
The Public Relations Department can also be contacted via Blackberry Messenger PIN # 5926AF13