The Guyana Private Sector Commission welcomed the Hard Rock Cafe with open arms this afternoon as the officials of company met with executives and members of the leading private sector representative body in the country.
Hard Rock Cafe is getting set to open its first branch in the english speaking Caribbean in Guyana. The first cafe will be located in the Movie Towne Complex on the East Coast.
The Hard Rock Cafe is an internationally known chain of restaurants that have been around for more than four decades.
Representative of the franchise, Hershael Ramesar, told the PSC officials that his company is excited about Guyana's future and doing business in Guyana.  He said the restaurant will depend heavily on local products and services and will develop key partnerships with local companies.
"We would like to showcase Guyana through the Hard Rock Cafe and in doing so, not only through the local workforce but by utilizing as much of the local manufactured products and as much as the local service providers as we can", he assured.
At the table, he started to connect and exchange business cards with representatives of a number of the companies that intend to do business with the Hard Rock brand, from chicken suppliers to furniture manufacturers and air services.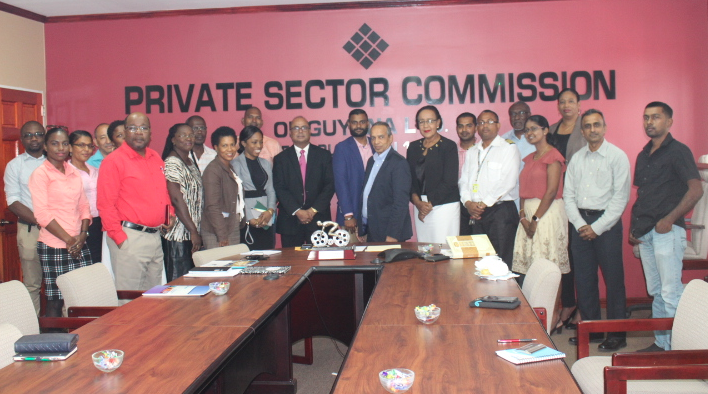 Chairman of the Private Sector Commission, Eddie Boyer, welcomed the move by the company to open its doors in Guyana.  He said he is very confident of Guyana's future and investments like the Hard Rock Cafe must be welcomed.
Boyer said as Guyana moves towards become a major player in the oil industry, more and more avenues and opportunities will open up for international companies to do business in Guyana. He said as long as those companies come to Guyana and provide jobs for Guyanese, the Private Sector Commission will continue to welcome them and be supportive of their business in Guyana.
The CEO of the company which has the Hard Rock Cafe franchise is expected to visit Guyana shortly to meet with Government Officials and the Private Sector Commission and other stakeholders.