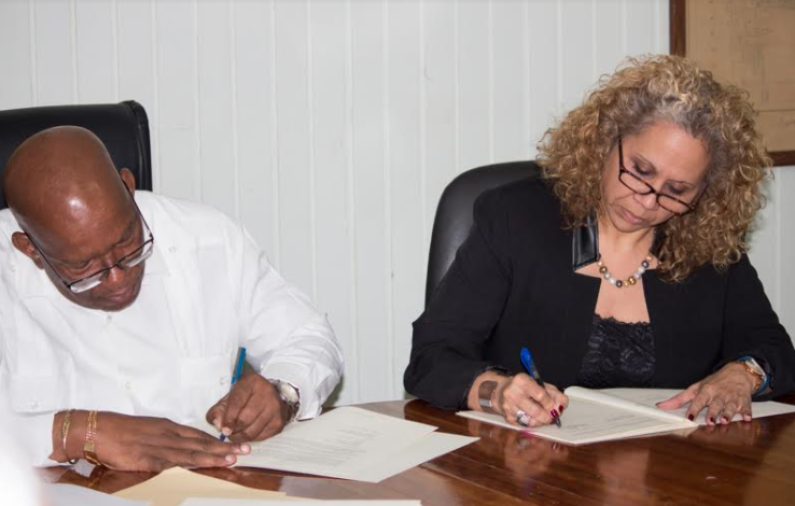 Guyana and the Inter-American Development Bank have inked three Technical Cooperation Agreements that will cover several development projects.
The agreements were signed on Monday by Minister of Finance,Winston Jordan and IDB Country Representative, Sophie Makonnen.
According to the Finance Ministry, the Agreements are valued at a total of US$1,762,250 and represents technical assistance resources for the development of a comprehensive National Housing Strategy funded at US$517, 250;  A Fiscal Management Modernisation Project funded at $US745, 000; and A National Civil Aviation Plan for Guyana funded at US$500,000.
Minister Jordan acknowledged the timeliness of the Agreements and said that they are critical to Government's Agenda to consolidate and restructure the delivery of services in these areas while at the same time stimulate growth within the sectors.
The "Support for the Development of a National Housing Strategy" programme will assist Guyana's Central Housing and Planning Authority (CH&PA) in preparing and disseminating a Comprehensive National Housing Strategy. This IDB funding will enhance CH&PA's developmental approaches and interventions in the sector, thereby assisting citizens to access more cost-effective housing.
The "Fiscal Management Modernization Project" is designed to create greater efficiency in Guyana's revenue administration. This will envelop a strategic organizational structure and strengthen institutional and technical capacities of human and other resources of the Guyana Revenue Authority (GRA). It also undertakes an assessment of the property tax collection system administrated by the Valuation Division of the Ministry of Finance. This assessment will see more realistic valuations of properties in Municipalities and Neighborhood Democratic Councils (NDCs) which in turn will lead to an increase in the value of real estate.
The "Support for a National Aviation Master Plan" will provide much-needed support to the Guyana Civil Aviation Authority (GCCA) as it will prepare a National Air Transport Plan, a National Airports Plan, and a National Plan for the Administration of Civil Aviation. The GCCA is seeking a thorough analysis of the aviation sector that will allow it to plan more strategically, improve the quality of civil aviation oversight, and hasten structured improvements to the sector. Government is keen for an analysis of the sector that will allow it to plan more strategically for its development.
In brief remarks Ms. Makonnen said that technical funds finance activities to transfer technical know – how and expertise, capacity building, transfer of knowledge and research – including diagnostic, pre-investment and sector studies that support project design and preparation.
The Government of the Cooperative Republic of Guyana lauded the Inter- American Development Bank for its commitment to the country's development over the years.
The signing was witnessed by the Minister of Communities, Ronald Bulkan and Ministers of Public Infrastructure David Patterson and Annette Ferguson along with other government officials.