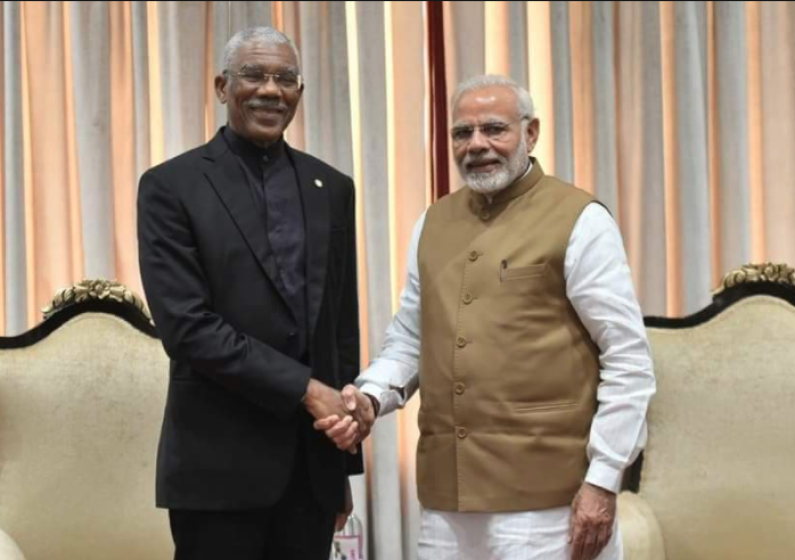 Indian Prime Minister Narendra Modi is set to visit Guyana later this year. That announcement came last evening from the Ministry of the Presidency.
President David Granger met with the Indian Prime Minister over the weekend in New Delhi and the two had extensive discussions on cooperation and improving bilateral relations.
During the meeting, the two leaders reviewed the scale of Guyana-India relations and agreed to continue discussions when Prime Minister Modi visits Guyana later this year.
President Granger also used the opportunity to update his Indian counterpart on the developments regarding the Guyana-Venezuela border controversy and expressed his appreciation for India's support for Guyana on this matter, for which a final resolution will be sought at the International Court of Justice.
Meanwhile, the President also met with India's Minister of New and Renewable Energy of India, Mr. Raj Kumar Singh, during which he iterated that Guyana remains open to investment in solar energy. He noted that Guyana is keen to become a model of solar energy development. The Minister, in response, indicated India's willingness to send a team to assist Guyana in developing its solar energy plans.
The President also met with Minister of Environment, Forests and Climate Change of India, Dr. Harsh Vardhan, who he briefed on plans to establish an international institute to help catalogue Guyana's inventory of its flora and fauna and to undertake biodiversity research. President Granger responded favourably to the Minister's request for a delegation from Guyana to be represented at World Environment Day celebrations in India on June 5, 2018.
The ISA Solar Summit, which was held on Sunday, brought together solar resource rich countries in order to help achieve the common goals of increasing the use of solar energy in meeting energy needs of prospective ISA member countries in a safe, convenient, affordable, equitable and sustainable manner. The ISA has a potential membership of 121 countries located in the tropics, with 58 of those countries already signing the Framework Agreement establishing the 'Alliance'.