The latest International narcotics report compiled by the U.S State Department which examines the problem of drug trafficking globally has found that "the influence of narcotics trafficking is evident in the country's political and criminal justice systems."
According to the report, drug traffickers are attracted by  Guyana's poorly monitored ports, remote airstrips, intricate river networks, porous land borders, and weak security sector capacity. The country remains  a transit country for cocaine destined for the United States, Canada, the Caribbean, Europe, and West Africa, according to the report, which further states that cocaine originating in Colombia is smuggled to Venezuela and onward to Guyana by sea or air.
The report stated that Guyana has legislation in place that could aid in tackling the narco trade but enforcement has not been pushed by the Government.
"The Government of Guyana has legislation in place that could enable a more-effective response to the threat of drug trafficking. The Anti-Money Laundering and Countering the Financing of Terrorism (AML/CFT) Act of 2009, the Interception of Communications Act of 2008, and the Criminal Law Procedure Act (revised in 1998) were designed to enhance the investigative capabilities of law enforcement authorities and prosecutors in obtaining convictions of drug traffickers. To date, however, the government has sought no prosecutions under these laws", it stated.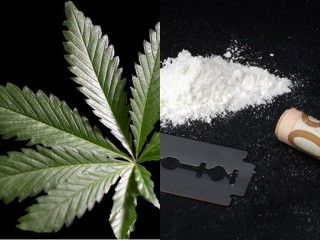 The United States said it would welcome increased levels of cooperation with the Government of Guyana to advance mutual interests against the threat of international drug trafficking.
"Guyana has shown strong interest in furthering collaboration under CBSI. The United States looks forward to tangible progress on investigations, prosecutions, extradition, security sector and port security capacity enhancement, the engagement of at-risk communities, and enforcement of laws against money laundering and financial crimes", the 2014 report concluded.
The Customs Anti Narcotics Unit and the Narcotics Branch of the Guyana Police Force have been leading the way in several drug busts over the past months.
Traffickers have been making efforts to get the cocaine out of Guyana in just about anything, from achar to weave.
There have been several busts at the Cheddi Jagan Airport but authorities fear that the drug pushers may be using the country's porous borders to continue with their illegal activities.