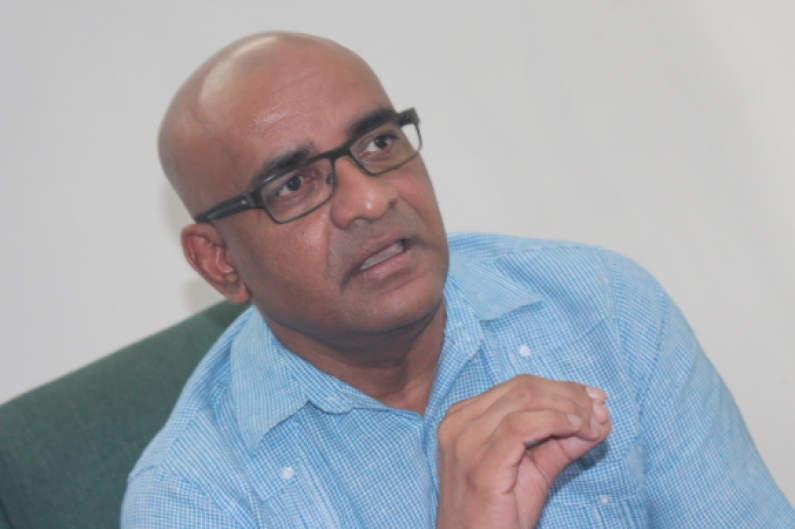 Opposition Leader Bharrat Jagdeo on Wednesday lashed out at the President David Granger and the  government in the face of a report, which recommends a shake up in the Guyana Police Force.
The recommendation for Police reform was made in the recent Commission of Inquiry Report into a plot to assassinate President David Granger. The recommendation was confirmed by both the Head of State and State Minister Joseph Harmon during separate media engagements last week.
But Mr. Jagdeo is not in support of any move to reappoint senior members in the force.
Jagdeo, who had shaken up the entire top brass of the Guyana Defence Force when he served as President, now says the current government seems bent on using the COI to shaft senior persons in the police force.
"After the comic show, a report got written, recommendations are made and the President gets what he wants… good Policemen who have worked hard will get their careers stymied because their politics don't find favor on New Garden Street," he added.
The Opposition Leader said everyday Guyana is taking on the features of "a banana republic" where the President does what he wants with impunity.
He recalled the President Office's recent letter tot he Police Service Commission (PSC) seeking a halt to Police promotion.
Jagdeo reasoned that now that the Police Service Commission's life has ended, citizens must look out and pay attention to who will form part of the new PSC. He speculated that it will be persons who will submit to the will of the government.
President Granger has said that he is still examining the findings of the Commission of Inquiry report. He said, however, that there is clear evidence of lapses in professionalism in the hierarchy of the force which needs to be addressed. 
Minister Harmon has also confirmed that the Paul Slowe investigation report points to areas which require reform in the Guyana Police Force.
The Commission of Inquiry was set up following revelations by a businessman that he was offered $7 million back in 2015 to assassinate the President.
The revelations triggered a police investigation, but that investigation itself came under probe after allegations surfaced about the interference in the investigations by senior Police Officers.