Despite the concerns over the safety of the water at the Kara Kara Blue Lake in Linden, the Ministry of Tourism has officially declared the Blue Lake site as a tourism destination in the town.
There are several blue lakes in Linden, with the Kara Kara Blue Lake being the most popular ones. The lakes are actually mined out areas that were once used for bauxite mining and production in the town. In the past few years, the blue lake has become a hotspot for visitors to the community.
With Tourism Awareness Month currently being observed and Linden seeing an increase in visitors, the Minister of Tourism, Oneidge Waldron said making the Blue Lake an official tourist destination was an easy decision as the lake was cleared for leisure activities.
"Getting in that kayaking is a little bit of adventure, People love the little adrenaline and sites are so beautiful, it's pristine out here; this is a no-brainer for a tourist attraction. You could come here to the beautiful white sand, the safe water, swimming, adventure kayaking, jet skiing. There is so much to do here in just one spot" Minister Waldron said.
The Tourism Minister made a visit to Linden on Sunday and met with members of the Regional Tourism Committee and tour operators in the town.
The quality of the water in the lake has been tested and has been deemed safe for swimming and other recreational activities.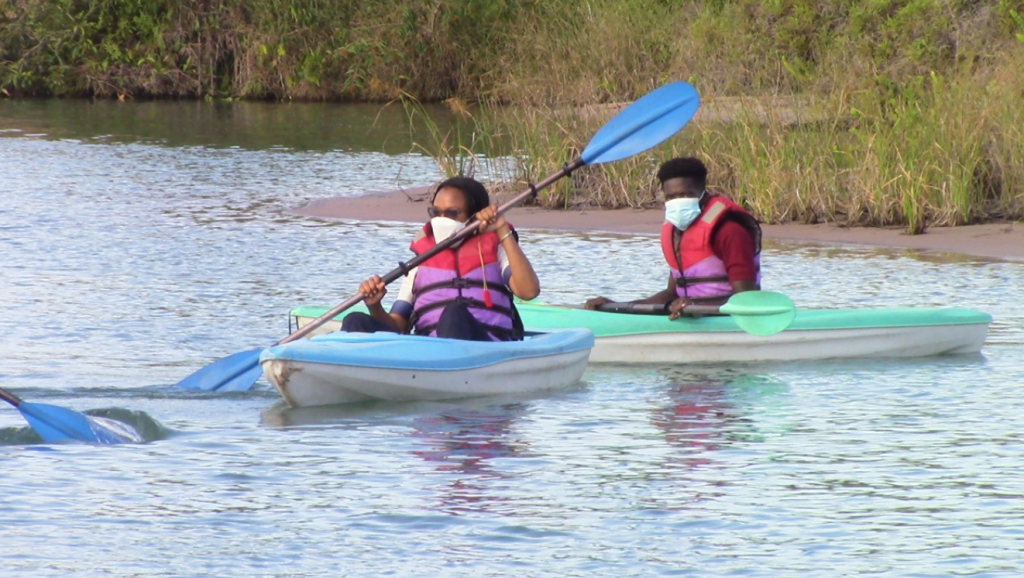 "Well, the fact that is that it is not contaminated, we have had an independent study done of the water, as well as a study conducted by Guyana Water Authority and they have certified that the lake is safe for recreational activities. So, we would not have been reckless enough to say that it is safe when it's not, but we do have studies to back it up." Minister Walrond said.
A move is now underway to fully develop the area with small resorts.
"Already, we have given the support to the Tourism Committee in terms…and we are encouraging the Tourism committee that they can come together with proposals to put up beautiful resorts, and to have sporting activities done here in this beautiful lake all of these things we can help", the Minister said.
Several other areas across the town of Linden and Region 10 are also being developed for tourist activities.
Linden has been involved in bauxite mining for over 100 years and its rich mining history is also being showcased to tourists as part of the many activities in the town.