Describing the arrest of Attorney Tamieka Clarke as a direct attack on the rule of law and a threat to democracy, over fifty Attorneys dressed in their robes picketed the office of the Special Organised Crime Unit of the Guyana Police Force this midday.
The protest was called by the Guyana Bar Association which has been loud in its criticism of the arrest and has ignited support from Bar Associations across the Caribbean and the Commonwealth.
With placards in their hands, the Attorneys also expressed dissatisfaction with the pace of the Police investigations.
While the protest was ongoing, the Guyana Police Force issued a statement indicating that its Office of Professional Responsibility had completed its probe and the file has been dispatched to the Director of Public Prosecutions for advice.
At the protest, President of the Guyana Bar Association, Attorney Pauline Chase said one week after the incident, there has been no positive movement from the Police.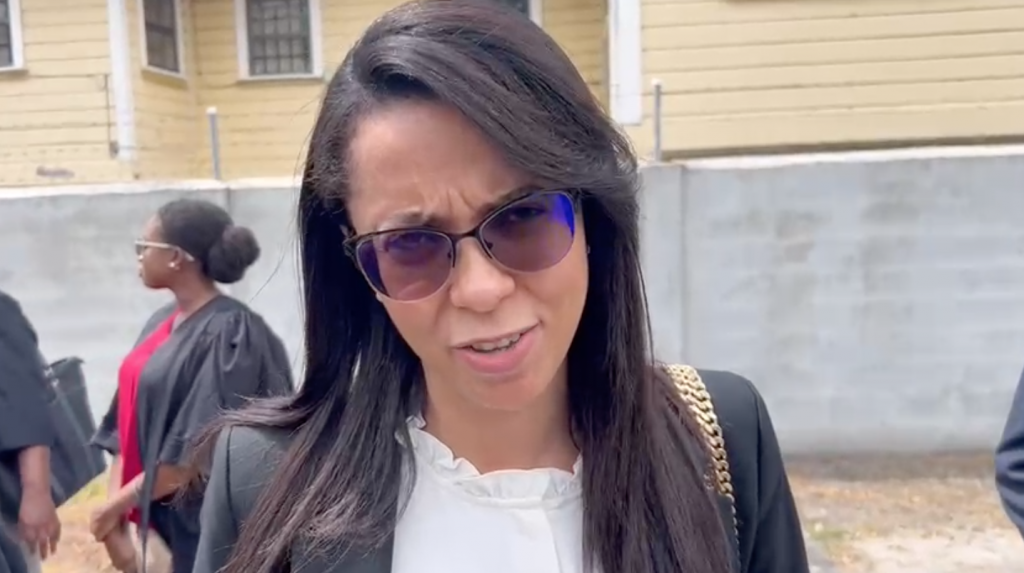 "We issued a statement on the same day calling for a number of actions to be taken, and we have not seen any movement on that and so we are forced to come out here…And I think this in itself (the protest) should send a strong message as to how serious we are. And this is not a lawyer issue, yes you see lawyers out here. But this is a wider issue, this is a rule of law issue, it is a fundamental rights issue. The right to Counsel, and the right to remain silent are ingrained and are non-negotiable rights and it affects us all", Attorney Chase said.
Among some of the other Attorneys who found themselves on the picket line in support of their colleague this midday were former Speaker of the National Assembly, Attorney Dr. Barton Scotland and former Chief Magistrate, Senior Counsel K. Juman-Yassin.
Mr. Scotland said the arrest of the Attorney represented a serious breach of the rule of law, adding that "I would hope that at the end of the day, there is not just a change, but a marked change in the relationship between those who investigate and must prosecute and those of us who may be called upon to defend those who are accused".
Senior Counsel Juman-Yassin said "it is unbelievable what happened. I really could not believe that a senior Officer would wish to place an Attorney-at-law under arrest. I cannot believe that an Attorney-at-law doing her or his work can be so threatened…this is disgraceful and I want to say that you can imagine what may go on behind the closed doors in the evenings when an Attorney-at-law or no member of the public is there. If something like this could happen to an Attorney-at-law, imagine what could happen behind closed doors".
Attorney Tamieka Clarke was in the company of her client who was being questioned by SOCU investigators when she advised her client to remain silent. That advice led to her arrest and officers blocking her from leaving the room where she was detained for close to an hour.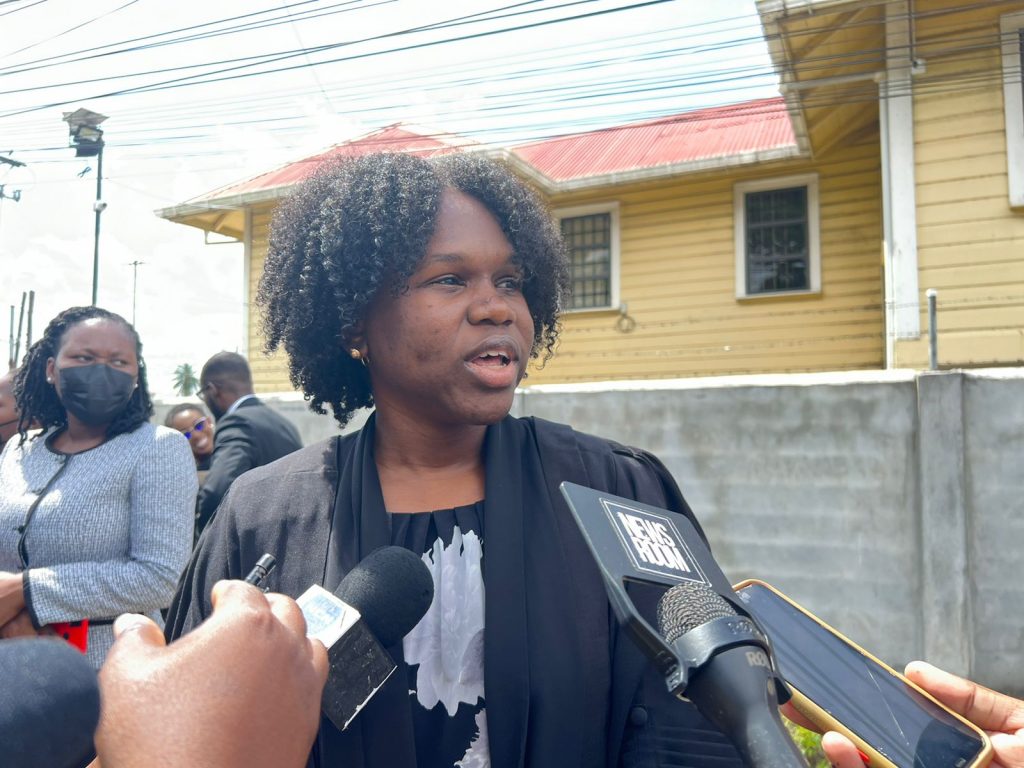 Today, she said she is pleased with the support of her colleagues but remains concerned about the entire situation.
Attorney Clarke said she is also surprised with statements now trying to indicate that her client was not a suspect in the matter that was being investigated by SOCU.
"I am not satisfied. I expected that by now, the Commissioner of Police would have issued a statement, acknowledging certain principles that Counsel has the right to instruct (the client) to remain silent…And it is appalling that the Police that are investigating matters would not know what a suspect is. If you arrest someone, and you have search warrants for their home, you release them, you have them with reporting conditions like when to come back and when to do this and you are saying that person is not a suspect? So if the Police don't know what a suspect is then where are we as a society?", the former Prosecutor questioned.
The arrest last week by the investigators at SOCU has led to widespread condemnation. Attorney Emily Dodson said there is also the issue of gender raising its head, since she believes a male Attorney would not have been treated the way that Ms. Clarke was treated.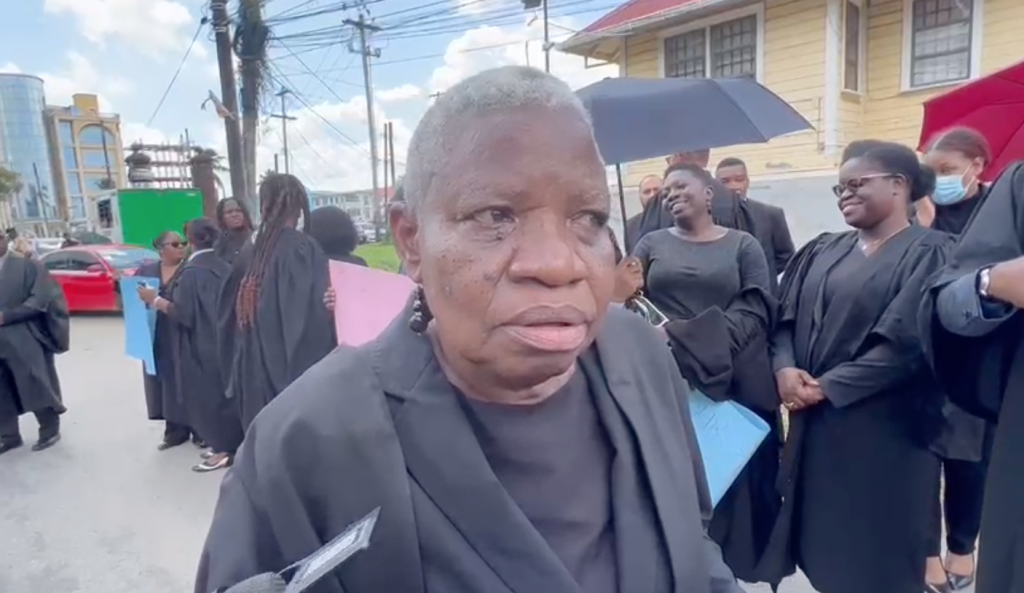 "I also see this in gender eyes too. Because I am thinking, would this type of treatment had been meted out to a male lawyer. You going to the door and stopping the lawyer from leaving. And for me, this is just a culmination of Police action eating away at your rights over time", Dodson told reporters.
Attorney and former Police Officer Dexter Todd said he is surprised that the investigation by the Police has taken more than a week to be completed.
He said "I think sometimes, we like to waste a lot of time in Guyana. This investigation is a very simple one. The lawyer went into SOCU, the lawyer advised her client and that advice was disregarded and further resulted in her arrest. It's not very long to investigate that and all they need to know is who is the person that passed the order to arrest and who is the arresting rank".
Also on the picket line today was Attorney and former Magistrate Leslie Sobers. He said the arrest is a travesty, noting that he also believes that are "mavericks in the Police Force who are branching out from the norm and doing their own thing".
The Office of the Director of Public Prosecutions confirmed to News Source that it received the file on the investigation but returned it to the Police without advice, after there was request for it to be sent back.
Meanwhile, the Attorney has indicated that she is moving ahead with the filing of a lawsuit against the Guyana Police Force and others over her unlawful arrest and detention.