Guyana's President, David Granger, has expressed disdain over Monday's occurrence in the National Assembly and the disrespect which he believes was thrown out to House Speaker Dr. Barton Scotland by the Opposition.
In a brief interview with the media this morning, President Granger observed that as Head of the Executive branch of Government, he felt disrespected in a similar fashion when he addressed Parliament on November 2nd and was confronted by placard waving and heckling opposition Members.
The President believes that Opposition Member of Parliament, Juan Edghill's refusal to leave the Chamber after he was rendered out of order by the Speaker, amounts to just as much disrespect to the Speaker who is the head of the Legislative arm of Government.
"It's a level of vulgarity which is referred to since November 2nd. I have never seen it before and I hope I never see it again," Mr. Granger said.
The House descended into chaos on Monday when Edghill refused to leave the Chamber and was backed by his PPP colleagues even after the Sergeant of Arms and the Police tried to enforce the Speaker's orders.
Opposition MPs sat in the House and continued to insist that Edghill could not be removed even after the lights, air conditioning and internet service were turned off.
President Granger told reporters that there is no place for that sort of behavior in the National Assembly and remarked that it was a very poor display on the part of Edghill and other Opposition MPs.
"I can't imagine the Chancellor, who is the head of the Judicial arm of Government, having to put up with that in the High Court. There are three branches of government and every branch has its head and that head must be treated with respect," he added.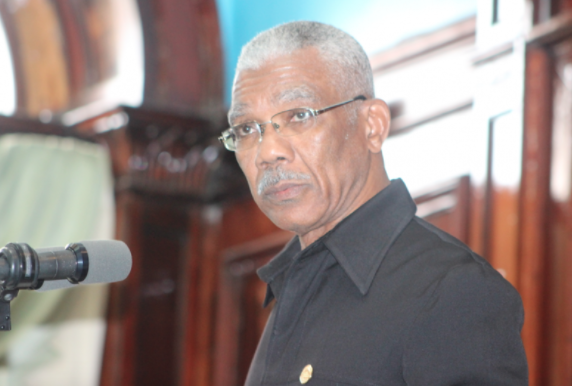 The President has called on Opposition Leader Bharrat Jagdeo to "deal with issues within his party."
Edghill was prevented from entering the precincts of Parliament Buildings when he returned on Tuesday and has further been suspended from four sittings of the National Assembly.
During his suspension, Edghill will not be paid salary and allowances and not be entitled to some of the other benefits of a Member of the National Assembly.
He is not entitled to attend sittings of the National Assembly or meetings of Parliamentary committees or lodge questions or submit notices of motions until the termination of the suspension
The Assembly is currently considering the 2018 estimates of expenditure.