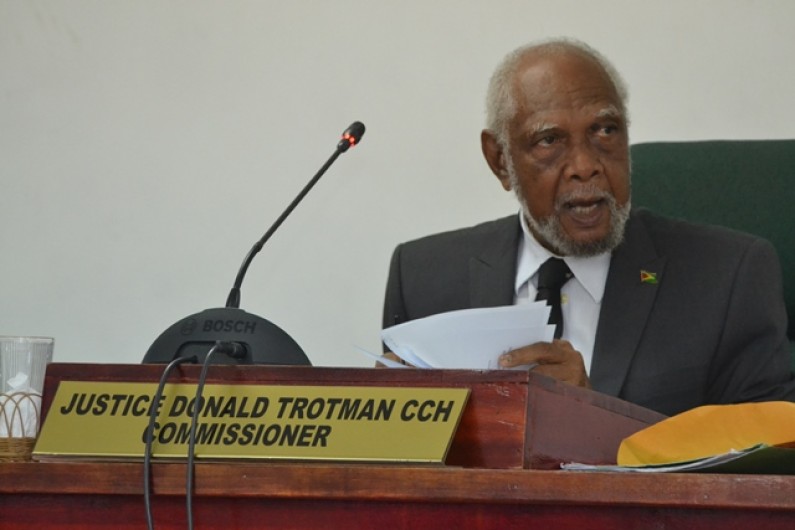 Public Hearings at the Lindo Creek Commission of Inquiry wrapped up on Tuesday afternoon with the Commission refusing to place the only possible surviving witness, Dwayne Williams on the stand.
Commission Chairman, Justice Donald Trotman in handing down his ruling, said he considered it unnecessary and inadvisable to place Williams on the stand.
It is alleged that Williams had given statements to the Police back in June 2008, indicating that the then notorious Fineman gang was responsible for the murder of the eight miners. He reportedly claimed that he was a member of the gang at the time. He was 15-years-old at the time.
But his story has reportedly changed over the years, and there have always been questions about what he really told investigators.
Attorneys representing the interest of the Guyana Defense Force at the hearing wanted to see the now 25-year-old man on the stand,  but Justice Trotman ruled against such a move and said Williams is currently in protective custody pending indictable proceedings.
He also informed the Attorneys that Williams was interviewed by the Commission and he pleaded not to be exposed to a public hearing, which could endanger his personal security and personal life.
"Taking these matters into consideration and Williams' own concern for personal safety and security the Commission must have respect for his entitlement to security and witness protection," the Chairman said.
The GDF Attorneys said they respected the ruling and in turn asked for Williams to give evidence and make himself available for questioning by skype but that request was also denied.
Williams statement has however been handed over tot he Attorneys with the Chairman indicating that it was more in favor of the GDF rather than incriminating.
Although public hearings have come to an end, the Commission will continue until the end of June before compiling its report with findings and recommendations.
The Commission Counsel, Patrice Henry, said the Commission intends to interview former Prime Minister Samuel Hinds and Former Chief of Staff Mark Phillips before wrapping up its work.