Police investigators are convinced that the man whose lifeless body was found with gunshot wounds on a street in Eccles, is wanted man Rawle Newton called "Satan Ambassador".
A Police investigator who was on the hunt for the wanted man said he is "sure the man found in Eccles is the wanted man because Rawle Newton had the words 'Satan Ambassador' tattooed on one of his arms and this dead man found in Eccles has the same tattoo in the same place".
In February, the Guyana Police Force issued a Wanted Bulletin for Newton for robbery under arms committed on a resident of Parfait Harmonie.
The bulletin came just three weeks after Newton was set free by a Magistrate in Bartica on a double murder charge. He was charged in 2010 for the murder of businessmen, Jainarine Raghubar and Ramdeo Deonarine.
The bodies of the two men were found tied up in a Bartica home. Millions of dollars and a large quantity of gold were stolen. Newton and another man were nabbed and charged in connection with the murder after they went on a car shopping spree just after the murders and offered monetary gifts to a number of policemen who were investigating the double murder.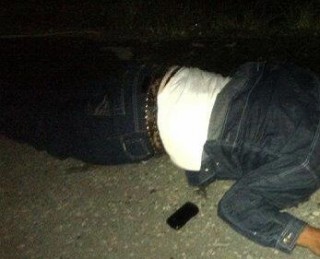 Newton and his accomplice both remanded to prison after being charged, but in the past four years, the case found its way moving through the courts of a number of magistrates and when it was called before another magistrate in January of this year, the police witnesses and other witnesses were a no show.
The prosecution had promised to call 13 witnesses in the case, but none of them, including police officers, ever turned up to give evidence. The defence attorneys eventually moved to have the matter dismissed because of lack of evidence and the Magistrate agreed and dismissed the matter.
The defence attorneys pointed out that the two men were behind bars for close to four years and the matter was still at the preliminary stage with witnesses never showing up to offer evidence.
Since being freed of that double murder charge and following the bulletin issued by the Police, Newton vanished and investigators believed that he may have left the country.
It is unclear what may have led to his execution on Saturday but investigators are of the view that he was murdered somewhere else and his body dumped in the Eccles area.
"Satan Ambassador" was 27 years old.