Police and Fire investigators were combing through the damage at the Merriman's Funeral Home early on Thursday morning after a section of the building was set on fire. Investigators believe fire bombs were used. Two hearses were almost completely gutted and the front of the building was badly scorched.
Neighbours recalled hearing two loud explosions early on Thursday around 1am. The loud sounds woke persons in the area from their rest and shattered the peace and quiet of the neighbourhood.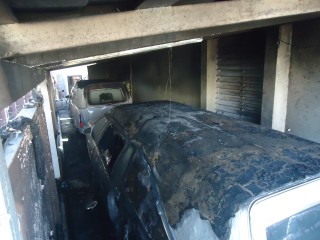 The Guyana Fire Service is treating the case as the work of an arsonist. The owners of the funeral home are out of the country and a staff member said the attack on the establishment has left them all very puzzled.
Luckily, the fire was contained to just the front of the building and it did not disrupt the electricity supply and as a result the freezing chamber for bodies was not affected. The funeral home was forced to move a funeral service that should have been held on Thursday afternoon, to a nearby church just across the street.
The Merriman's Funeral Home is one of Guyana's oldest funeral establishments and has been around for over 60 years.
The current Managing Director Claude Merriman, is the leading Funeral Director and Embalmer in Guyana today.