The Ministry of Housing and Water through the Central Housing and Planning Authority (CHPA) has signed a $202.9 million contract with Global Services Inc. for the development and implementation of an Information Technology (IT) Solution for the Single-Window Planning and Development System.
Global Services Inc – a consortium of companies based in Guyana, North America and the United Arab Emirates – was selected from among six companies that were shortlisted during the bidding process.
The electronic system, which is expected to be implemented by June 2023, is intended to not only modernise the process of issuing planning and building permits but will also reduce the wait times and other inconveniences.
The contract was signed in the absence of Planning and Development Single-Window System Legislation. A bill covering the legislation was recently laid in the National Assembly and the Government is confident of its passage.
Minister of Housing and Water, Collin Croal said the Single Window System will allow for high levels of transparency and accountability.
Meanwhile, amid concern over the tendering process, Minister Croal expressed confidence in the contracting service, explaining that the group has executed similar projects with the Dubai Development Authority, Qatar, Bahrain, Ontario and Jamaica.
"The contractee here today comes, and this is what consortium brings to the table, they all bring with them different aspects of experience that would allow both from the technological, the soft side, as well as for ensuring that we can deal with the interactive part in terms of members of the public.," the Minister stated.
Minister Croal further stated that the system will focus on five key elements: providing one-window access for CHPA to act as a single point of entry for planning; dashboards allowing staff to monitor the status of individual applications; application tracking allowing users/applicants to make submissions and track application progress; deadlines and escalations to enable timely processing of applications; and scalability to ensure that the IT solution can accommodate increased application volumes, staff changes, and be configured to accommodate changes to evolving workflows.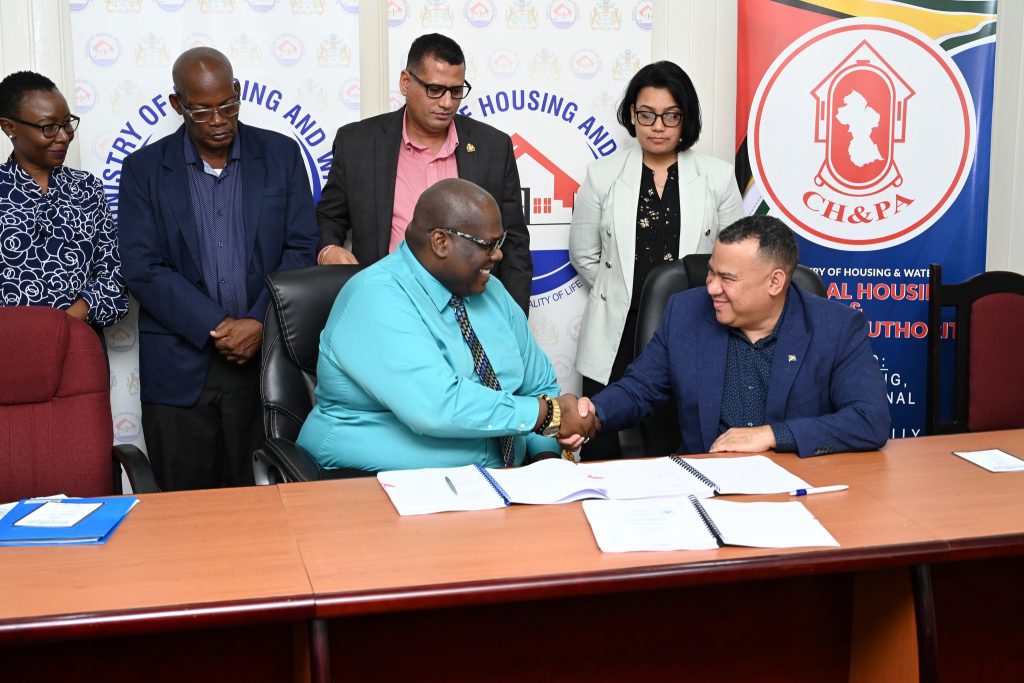 Minister within the Ministry of Housing and Water, Susan Rodrigues, in her remarks, said that the technological advancement is historic in the housing sector, and would significantly increase the ease of doing business in Guyana. It was explained that no longer would investors have to visit several agencies for their planning and building permits to be processed.
"Anybody who has ever undertaken a massive construction or had to apply to the City Council or any NDC for a building permit or a planning permit knows that when they start the process at the Mayor and City Council or at the NDC, they then have to come to Central Housing and Planning Authority, they have to go to the Fire Department, EPA, Public Works, Sea Defence, there is a whole host of agencies that you have to go to basically track your application and you have to do this in person… So, this tremendously eases that process of doing business where you will present your completed application at a single window," Minister Rodrigues explained.
Noting that the single window system will allow for greater transparency, Minister Rodrigues said that there will be strict timelines for applicants to follow throughout the virtual process.
"We are removing all subjectivity from the system. No Guyanese or investor does not have to fear any form of subjectivity or do not have to fear that any public official will deny their application simply because the public official don't like them or any of that," she explained.
She noted that this is important for attracting investors to Guyana and improving the nation's economy.
The contract was signed by the Chief Executive Officer of CH&PA, Sherwyn Greaves and the President of Global Services Inc, George Melville.