The National Milling Company of Guyana (NAMILCO) is the latest company to be granted certification to use the Made in Guyana Certification Mark on its 'Thunderbolt' and 'Maid Marian Self-Rising' flour.
 Acting Executive Director of the GNBS Ramrattie Karan said the standards body is pleased to support NAMILCO coming on board the standards mark programme.
"For years, businesses have been calling for such a programme which provides a mark that differentiates their products based on key quality and other requirements", she said.
Vice President of the Guyana Manufacturing and Services Association Ramsey Ali also extended words of congratulations to NAMILCO. He said the standard mark is not just a sticker.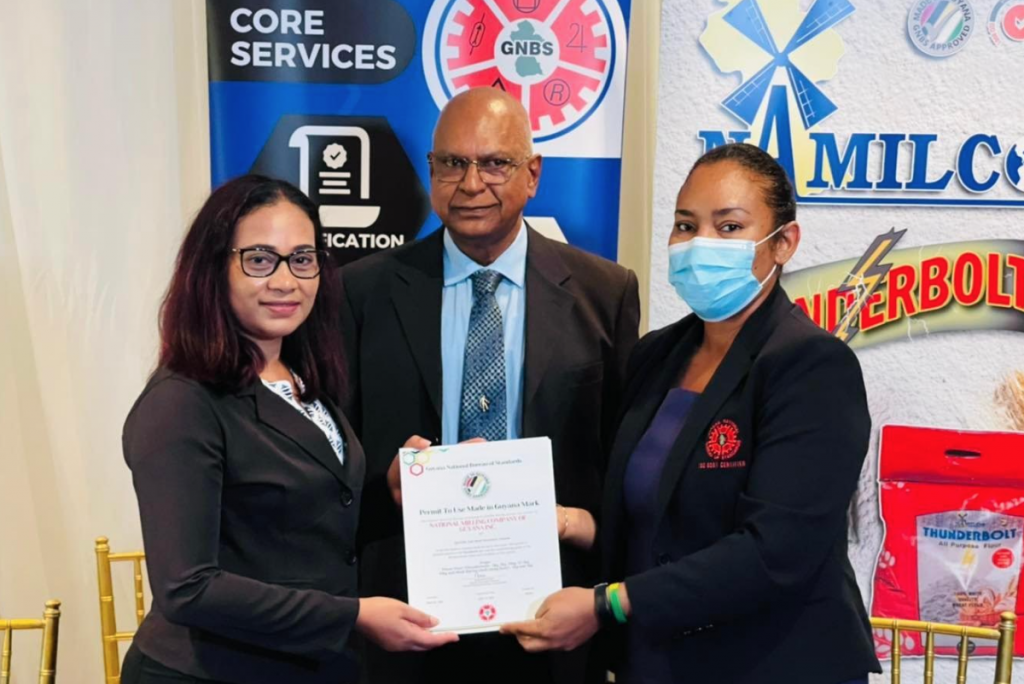 Director of Business at the Ministry of Tourism, Industry and Commerce John Edghill said the Government has placed much emphasis on the Made in Guyana certification.
He noted that "Guyana is now in the global spotlight and international companies are constantly seeking trading partners and investment opportunities."
Quality Manager of NAMILCO Taijawattie Williams said NAMILCO has always been looking for ways to demonstrate quality. She said the requirements to attain the mark were stringent.
The Made in Guyana Certification is valid for a period of one year and is open to all local manufacturers.
Manufacturers must use at least 60% raw materials from Guyana and at least 70% of staff members should be Guyanese.
The GNBS said that through the registered mark, it is seeking to provide recognition to locally manufactured products.