Eighty-six outstanding Guyanese were Thursday conferred with national honour and awards by President David Granger for their outstanding contributions to Guyana.
Prominent lawyer, Senior Counsel Rex McKay and House Speaker Barton Scotland led the list of this year's pool of awardees and were conferred with the Order of Roraima- Guyana's second highest National Award.
President David Granger who had announced the list of awardees on the eve of Guyana's 50th Independence Anniversary formally invested those selected with the insignia of awards.
During brief remarks, the President congratulated all awardees and said the national awards are meant to acknowledge all citizens whether rich or poor, servicemen or private citizens who have given selfless service to Guyana.
For several years, successive People's Progressive Party administrations had not conferred awards.
Following the 2015 elections, President Granger had vowed that Guyana's National Awards would once again be conferred every year as part of the country's obligation to deserving citizens.
The President said the conferment of these awards must never be delayed again.
Former Ambassador for Guyana, Ronald Austin and Business magnate, Inderjeet Beharry were among those that received the Cacique Crown of Honour.
Several persons who passed on since the May announcement of Awards were honoured posthumously at the event held at the National Cultural Centre.
None of the 86 awardees received the country's highest award, the Order of Excellence of Guyana.
Awardees were drawn from the disciplined services and across the public and private sectors.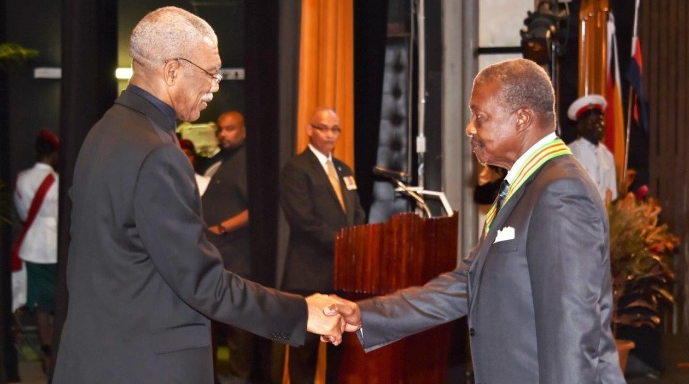 Chancellor Carl Singh who is also the Chairman of the Advisory Council of the Order of Guyana congratulated the awardees and explained that they are now set apart from their fellow citizens because of their outstanding service to Guyana.
He explained that a national award, which is carefully monitored and evaluated, is "a national badge of distinction and a most tangible recognition of merit that the country can give to these outstanding citizens as tokens of appreciation for the exceptional service they have given to the advancement of the public wheel and national ethos."
The Chancellor said all Guyanese should seek in their own way to contribute to Guyana as today's awardees have done.
"Today's awardees are being recognised for what they have given in their individual pursuits to Guyana and to ensure the growth and development of our country," he added.