Sixty-nine persons were on Friday evening honoured with national awards for their service to the country and its people.
At the ceremony, President David Granger said that the system of National Awards is about service and service is about improving the lives of citizens and communities; increasing the country's wealth and production; innovation in education and science and technology; protecting and representing Guyana and safeguarding national interests.
He also told the awardees that these National Honours are a reflection of the admiration and appreciation of a grateful nation. "Awards celebrate the contribution of citizens to the common good; epitomise the esteem in which the recipients are held by a grateful nation; embody the exemplary service and high values of citizens' success and encourage others, especially the young, to emulate their elders' achievements," he said.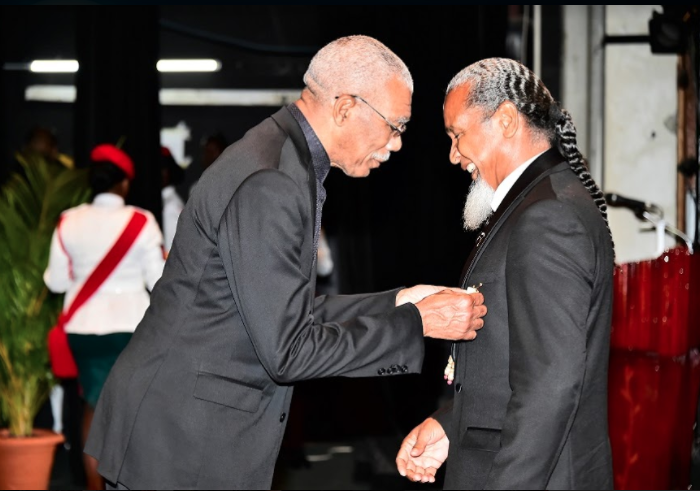 The President also restated his intention to ensure that these awards, which he referred to as "an important national institution", are never again disregarded or disparaged as was the case in the past. He reminded that the system of National Honours is ordained by the Constitution of the Orders of Guyana, noting that they are not ornamental or perfunctory. Moreover, he informed that these awards are conferred on deserving nominees only after careful deliberation and are not bestowed capriciously.
Chancellor of the Judiciary (Ag) Justice Yonette Cummings-Edwards, who is also Chairperson of the Advisory Council of the Orders of Guyana, described the insignias as badges of honour and distinction that carries the pride of a nation and appreciation for exceptional and dedicated service.
"It is important that recognition and reward be given for valuable service, hard work, patriotism, courage and bravery. Today's investiture ceremony is proof of the recognition of that sterling contribution and achievement. It is evident too, that the conferment of National Awards is a national acknowledgement of one's service with the grant of tokens of appreciation for it. Among the awardees today are religious and community leaders, entrepreneurs, business and legal executives, social workers, academicians, teachers, artists, officers of the [Guyana] Defence Force, the Police, Prison and Fire Services as well as other members of the community. This is an excellent mix of persons from all stations of life, profession and calling," Justice Cummings-Edwards said.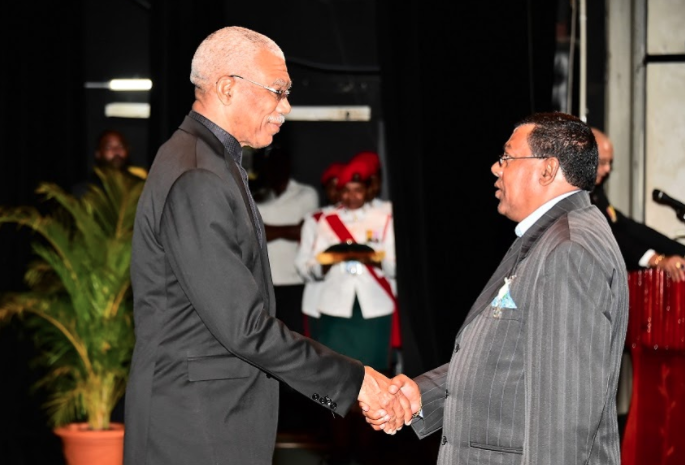 After Guyana became a Republic, National Awards was conferred consistently from 1970 until 2002. There was then a lull from 2002 to 2011. In 2015 when President Granger took Office he made it clear that these National Honours will be conferred annually with fail and notably, for the first time in the country's history, a significant percent of the awardees have been women.
Head of the Guyana Red Cross Society, Ms. Dorothy Fraser, who was conferred with the Golden Arrow of Achievement, said, "It is really an honour to receive an award but I think that the award goes to all of those who do the day to day work on a regular basis, but it is great to be recognised."
Former Toshao, Mr. John Andries, who was recognised for his outstanding work as a trained resource person in Cuyuni-Mazaruni (Region Seven) said that this award will serve as a great source of inspiration to the young people of his community as it will give them something to aspire to and work towards. "They will see that it is worth doing something for your community without expectations and encourage them to do their best in whatever they do," he said.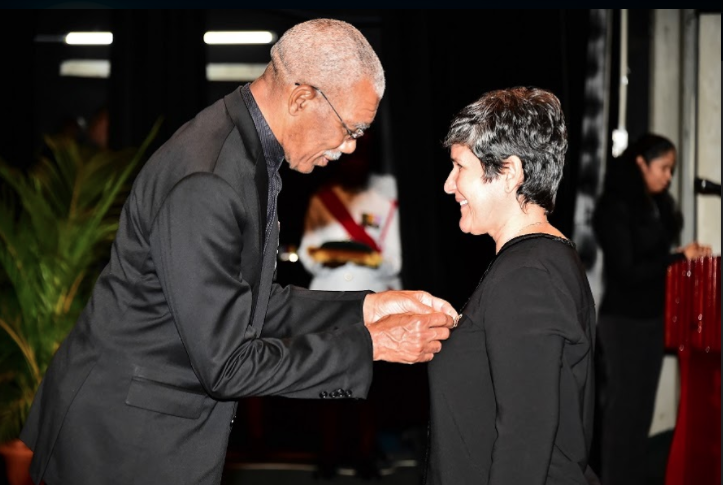 Similar sentiments were expressed by Sheikh Moeenul Hack, who received the insignia of the Order of the Cacique Crown of Honour said that he sees this award as a tremendous encouragement to become even better in the future. "We need to take our country and the development to a higher level and we are aware of our challenges and we must now build on our strengths and hopefully we will overcome our weaknesses and continue to have this united Guyana," he said.
Professor Ivelaw Griffith, who was also awarded with the Cacique Crown of Honour he feels a sense of pride that his nation has rewarded him a badge of honour. "It was wonderful hearing His Excellency say that these awards are not given out frivolously; these awards are recognition for service. I am grateful and I will continue to do the best that I can for my nation," he said. 
In May, on occasion of the 51st anniversary of Guyana's Independence, the 2017 awardees, which include over 31 women, were announced. This year's recipients are: Order of Roraima- Chancellor of the Judiciary (Ag) Justice Yonette Cummings-Edwards; Cacique's Crown of Honour– Chief Justice (Ag) Justice Alison Roxane George, Mr. Ivelaw Lloyd Griffith, Mr. Moeenul Hack, Mr. Irwin LaRocque and Mr. Murtland Massiah. Golden Arrow of Achievement– Mr. Ramsay Ali, Ms. Annette Arjoon, Mr. Lloyd Austin, Mr. Lance Carberry, Ms. Rhoda Clarke, Mr. Winslow Craig, Mr. Jose DaSilva, Ms. Jennifer Dewar, Ms. Dorothy Fraser, Ms. Gloria Fraser, Ms. Ameena Gafoor, Mr. Samuel Goolsarran, Ms. Gwyneth George, Mr. Adam Harris, Mr. Hilton Hemerding, Ms. Sandra Hooper, Ms. Julia Johnson, Ms. Sandra Jones, Mr. Raymond Kirton, Mr. Hemraj Kissoon, Ms. Doris Lewis, Mr. Tota Mangar, Ms. Hyacinth Massay-Thomas, Julie Matthews, Ms. Coretta McDonald, Mr. George Gladstone McDonald, Ms. Ann McLennan, Ms. Marie Mendes, Ms. Abena Moore, Mr. Cecil Murray, Mr. Vibert Parvatan, Mr. Jawahar Persaud, Ms. Karen Pilgrim, Mr. Andrew Proctor, Mr. Khakan Ramjohn, Ms. Gem Rohlehr, Ms. Sonya Roopnauth, Mr. Pradeep Samtani, Mr. Godfrey Statia, Ms. Barbara Thomas-Holder, Mr. Desmond Trotman, Mr. Patrick Williams, Mr. Enrico Woolford and Mr. John Yates. Medal of Service– Ms. Sandra Adams, Mr. John Andries, Mr. George Barclay, Ms. Erma Bovell, Ms. Camille Carrington, Mr. Patrick de Groot, Ms. Denise Dias, Ms. Merlene Ellis, Ms. Joan Fredericks, Mr. Heerlall Makhanlall, Ms. Genevieve Murray, Mr. Julio Perriera, Mr. Ryan Perriera and Ms. Emelda Sandy. Military Service Medal- Lt. Col Lawrence Fraser and Lt. Col Ramkarran Doodnauth. Disciplined Services Medal- Assistant Commissioner of Police Nigel Hoppie, Assistant Acting Director of Prisons, Mr. Gladwin Samuels and Deputy Chief Fire Officer, Mr. Winston McGregor.