A young technical producer attached to the state-owned National Communications Network has  been suspended over the airing of the budget speech by Alliance For Change Member of Parliament, Cathy Hughes.
News Source understands that the young man, Trevor Persaud, received a letter on Thursday indicating to him that he has been "interdicted from duty" pending the outcome of an investigation into who may have allowed the budget speech by the AFC Member of Parliament to air  on the state-owned television channel without being edited.
According to sources at NCN, instructions were passed down to the NCN technical team that Opposition budget speeches should not be aired directly after Government Ministers and should be aired late at nights. On Wednesday night, the producer was apparently unaware that Hughes'  budget speech came just after the speech by the Minister of Health.
The contribution by the AFC Member was already over 20 minutes into its airing when the transmission department received instructions to stop the tape and discontinue the airing of the budget.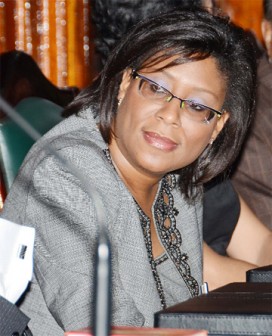 NCN Sources said a furious Office of the President Information Officer Kwame McCoy called management at NCN and demanded that the producer working on that shift be suspended immediately.
At first, Management at NCN attempted to get to the bottom of the situation without suspending the young man, but when McCoy spotted the young producer still at work on Thursday, he demanded that the young man be sent home immediately without pay.
NCN's management buckled to the demands of McCoy and the young producer was handed a suspension letter. The state-owned media house while not airing the budget debates live on its tv channel, has been providing live full coverage on its website.
But the move by NCN to suspend a producer over the airing of a speech by an Opposition MP, has once again brought into focus complaints by the Opposition parties about fair and equitable access to the state-owned media house.
The Opposition parties over the past two years have slashed the budget for the National Communications Network to $1. Without the budget allocation, NCN has been making over $500 Million annually on production services and the sale of advertising spots and sponsored programming.
Ironically, in her budget presentation, AFC Member Cathy Hughes called for better coverage of the Opposition by NCN and said the media house was operating with "bare talks" and "bare PPP talks".
News Source made several efforts to get a comment from the Acting Chief Executive Officer at NCN. We were told that he was busy in meetings.