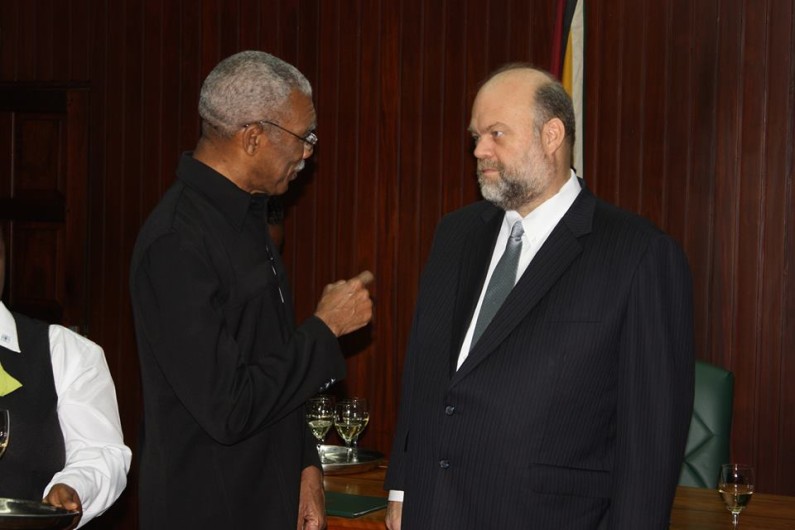 The new Ambassador of the United States of America, Perry L. Holloway on Friday told President David Granger that the United States stands ready to work with Guyana to eliminate impediments to its national development.
The career diplomat presented his credentials to the President on Friday morning at a simple ceremony at the Ministry of the Presidency.
Mr. Holloway pledged the U.S support to assist Guyana in the holding of local government elections.
"Hopefully with the use of electronic tabulation so that we can all have a few less sleepless nights as we await the results," he added.
He said "the United States has enjoyed a long and productive partnership, working together to promote our shared values of democracy, human rights, economic freedom and social inclusion both in the Caribbean and in the broader international arena".
Mr. Holloway also pledged to work with Guyana to combat transnational organized crime under the Caribbean Basin Security Initiative and he promised support to help the government bring about increased transparency and accountability in the management of the public resources and to protect the environment.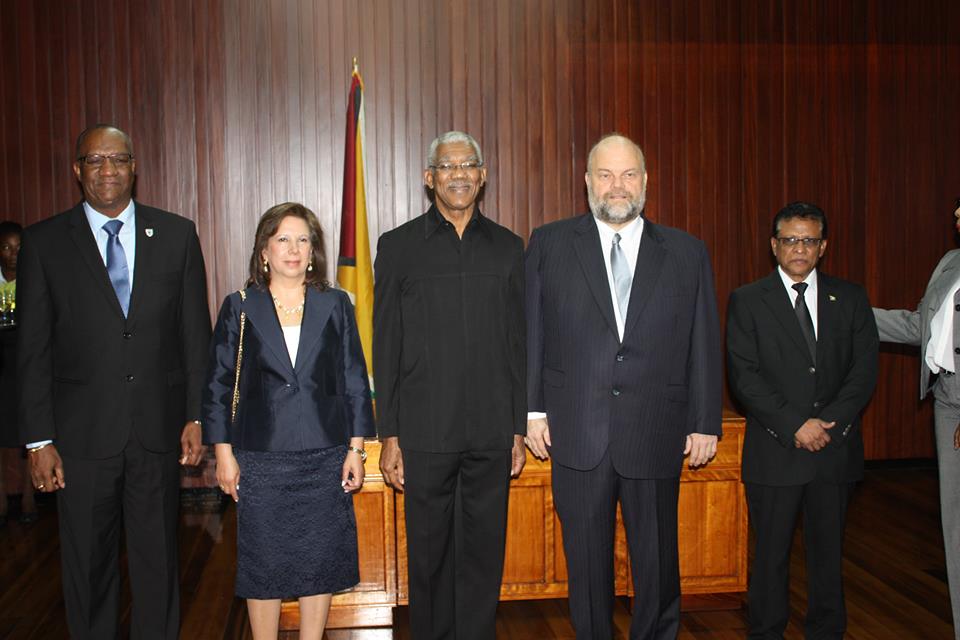 Meanwhile, President Granger in his remarks acknowledged the cordial relations for over fifty years which Guyana and the U.S enjoyed. He said these relations have cemented collaboration in the promotion of democracy, energy, health, security, trade and other areas of mutual interest.
The President acknowledged too, the changes which have occurred in security situation in the hemisphere, particularly over the past two decades.
"These include the prevalence of transnational crimes such as terrorism, trafficking in persons, trafficking in illegal narcotics, trafficking in illegal weapons and money-laundering to all of which small states are very vulnerable," the President said as he welcomed the U.S commitment to help with combating transnational crimes and explained that Guyana's geographical location makes it vulnerable to penetration by transnational criminal networks and territorial claims, both of which can undermine peace and security.
"Guyana is resolved to defend its territory, dismantle transnational criminal networks and develop its natural resources for the benefit of its people."
He said Guyana looks forward to the support of the United States in its legitimate quest to protect itself against terrorism, transnational crime and threats to its territorial integrity.
Ambassador Holloway, a career member of the Senior Foreign Service, class of Minister-Counselor, most recently served as Political-Military Counselor at the U.S. Embassy in Kabul, Afghanistan (2013 – July 2014).
He earned a B.A. in foreign languages from Wofford College in Spartanburg, South Carolina, a M.A. in International Business Sciences from the University of South Carolina, and a M.A. in National Resources Strategy from the Industrial College of the Armed Forces in Washington, D.C.  (Kurt Campbell)