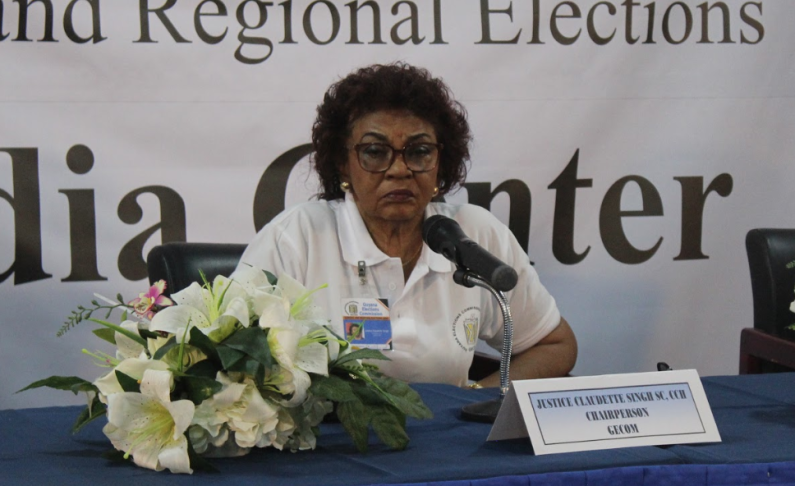 The Chairperson of the Guyana Elections Commission, Retired Justice Claudette Singh has withdrawn from any active participation in the PPP Civic's appeal of the Guyana Court of Appeal ruling in the election declaration case.
On Sunday, Justice Singh's Attorney, Kim Kyte, informed the Registrar of the CCJ that the decision was made after some consideration. No other detail was provided.
The decision means that the GECOM Chair will not be making any submissions in the case.
The GECOM Chair is the third named respondent in the case filed before the CCJ by PPP General Secretary Bharrat Jagdeo and Presidential Candidate Irfaan Ali.
The Attorneys in the matter were all expected to file their submissions over the weekend, with the Attorneys for the applicant being given additional time to respond to the submissions.
The case is set to come up before the Judges of the CCJ on Wednesday. The Court is still to decide on whether it has jurisdiction to hear the matter. That decision is likely to come after listening to the arguments of the Attorneys in the matter.
The PPP wants the CCJ to throw out the Court of Appeal's ruling that the words "more votes than" as stated in the Guyana Constitution means "more valid votes".
The applicants are also seeking additional orders with regard to the declaration of the elections.
Guyana's Attorney General who is also a respondent in the matter has been arguing that on the particular issue that was taken before the Guyana Court of Appeal, it is that Court and that Court only that has the final say on the issue.