Finance Minister, Winston Jordan is continuing with his budget consultations with various stakeholders as budget preparations get underway.
The budget for 2018 will be presented in the National Assembly on November 27, according to the Ministry of Finance.
On Wednesday, Minister Jordan and a team from his Ministry met with a number of young Guyanese entrepreneurs and business managers, as part of the consultation process.
During that meeting, some of the entrepreneurs expressed some of their views about what they believe should be part of the budget's focus.
Some highlighted the need for more government support for the information technology sector, while others spoke about youth development, tourism and government support for the entertainment sector as well as for small businesses.
One of the founders of the Intellect Storm company, Ronson Gray, pointed out that as Guyana moves into an area that becomes more dependent on information and data, the government should invest in opportunities in those sectors and should work with private sector companies to create a network of information that would assist investors and others who may be interested in doing business in Guyana.
The CEO of Caribbean Containers Incorporated, Patricia Bacchus, told the Minister that there also needs to be more avenues available for youth development and more programmes should be put in place to ensure youth empowerment and preparing them for the workplace.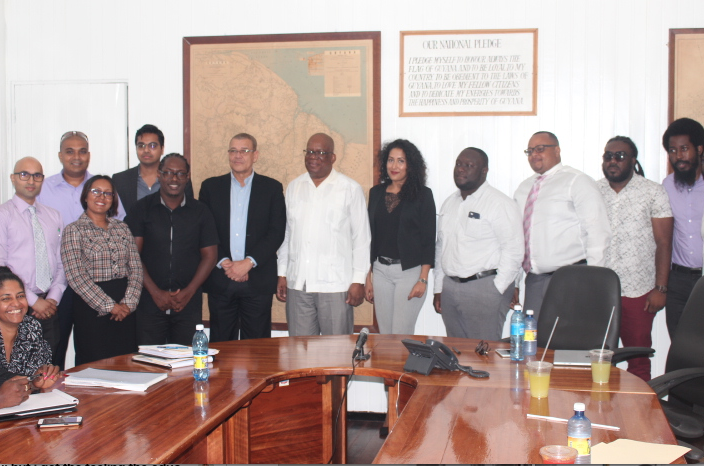 Ansa McAl (Guyana) Managing Director, Troy Cadogan focused a large part of his contribution on the value added tax that was applied to private tuition fees in the 2017 budget. He said some young people who may be thinking to further their education on the salary they receive, might now find that more difficult to do as those private school fees now attract VAT.
To that, the Minister announced that VAT on private school fees will be reviewed, as promised by the government. He however, challenged those present to come back and report to him whether the private schools lower their fees, if the review results in the tax being removed.
Entertainment promoters Rawle Ferguson and Kerwin Bollers encouraged the Finance Ministry to get the government to invest more in entertainment tourism, since that could serve as a way of moving the economy forward. They pointed to recent entertainment and sport events hosted in Guyana and the boost that those events would have offered to the economy.  The Finance Minister told them that the Tourism Ministry would be the best department to work along with.
There were also calls for the government to make known its support for small businesses and to work along with the commercial banks and other lending agencies to be more supportive of young people who are involved in developing their own small business.
In the last budget, over $100 million was set aside to support small business development. Minister Jordan said it is likely that there will be increases in that area.
The Minister also met with a number of youth leaders and youth group representatives, who all raised concern about job creation and more systems being put in place to assist Guyana's young people.
Over the past two weeks, the Finance Minister and his team, have been engaging various stakeholders on the budget, from trade unions to the private sector groups. The opposition, People's Progressive Party, was a no-show for its consultation.