As members of the Opposition chanted loudly and blew whistles in the National Assembly, the Government moved quickly to pass the Natural Resource Fund Bill and the Speaker allowed the passage without any debate.
The National Assembly descended into chaos this evening as the Opposition Members protested loudly against the controversial Bill just after it was introduced.
"No thiefin of the country's money" they shouted as they rose to their feet and banged on tables while others blew whistles. The Speaker tried repeatedly to get the Opposition MPs to take their seats, even ordering some of them out of the Assembly.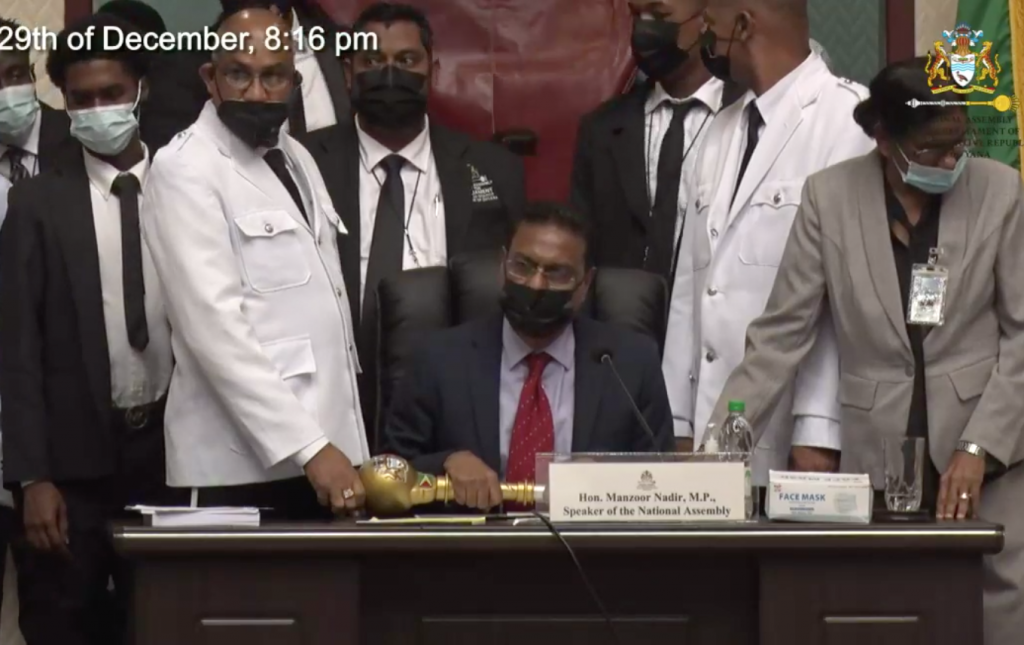 He was ignored and the protests continued. The Opposition MPs moved closer to the area where the Minister of Finance Dr. Ashni Singh was speaking and shouted over him. The Speaker suspended the Assembly briefly, but when they returned the protests continued with the chants becoming louder.
At one stage, Government Members of the Assembly surrounded the Finance Minister as he battled to speak above the noise and the Speaker gazed on. There was a commotion near the Speaker's table as an Opposition MP attempted to grab the Speaker's Mace but was prevented from doing so by one of the Parliamentary staff. Both went tumbling to the ground.
The Finance Minister continued his defence of the Bill as he presented it and accused the Opposition MPs of being involved in "thuggish" behaviour by their protest action.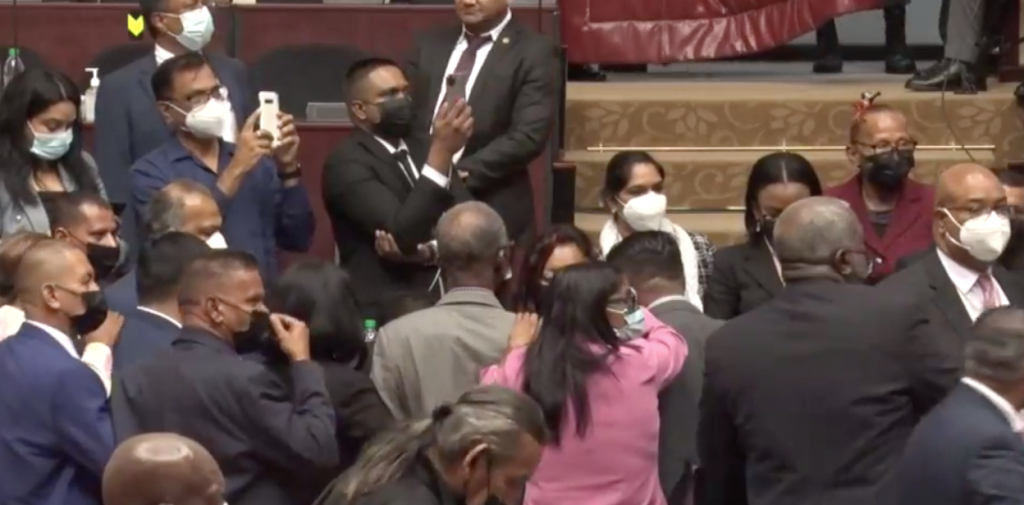 By the time he completed his presentation, the Minister of Governance requested that the Bill be put to a vote. With the Speaker allowing the vote, the Government Members used their one-seat majority to pass the controversial Bill as the Opposition shouted "no" against the passage.
The government in its move to rush the Bill through the Assembly, ignored the calls from the Opposition and a number of Civil Society groups to allow the Bill to go to a special select committee and for there to be more consultation.
The Bill was first introduced in the House just over a week ago.