Speaker of the National Assembly Manzoor Nadir called a press conference this morning to declare that the controversial Natural Resource Fund Bill was "legally and lawfully" passed in the National Assembly last evening during its chaotic sitting.
"I want to make it pellucid that the Bill was passed lawfully, legally last evening in the National Assembly", he said.
Mr. Nadir explained that although the Speaker's mace was displaced, a replica of it was in place when the question of the passage of the Bill was put to the Assembly. He explained that the National Assembly has always been in possession of two Maces.
The Mace is considered the most important instrument in the National Assembly since the Assembly can only carry out its operations with the Mace in its place.
During the Opposition's protesting of the Natural Resource Fund Bill, one of its Members of Parliament grabbed the Mace and went tumbling to the ground as Parliamentary staff attempted to grab it back.
The Mace ended up outside of the main auditorium of the Assembly where the sitting was taking place.
There was no adjournment called, but the replica Mace was brought in and the Speaker held onto it throughout the remainder of the Finance Minister's presentation of the Bill and the subsequent passage just after his presentation with the debate no longer taking place.
The Speaker said during the earlier adjournment, there were attempts to meet with the two Chief Whips, but the calls went unanswered. The Opposition has since denied that there was any such attempt.
Mr. Nadir condemned the behaviour by the Opposition Members in the National Assembly last evening and said it will not go unpunished.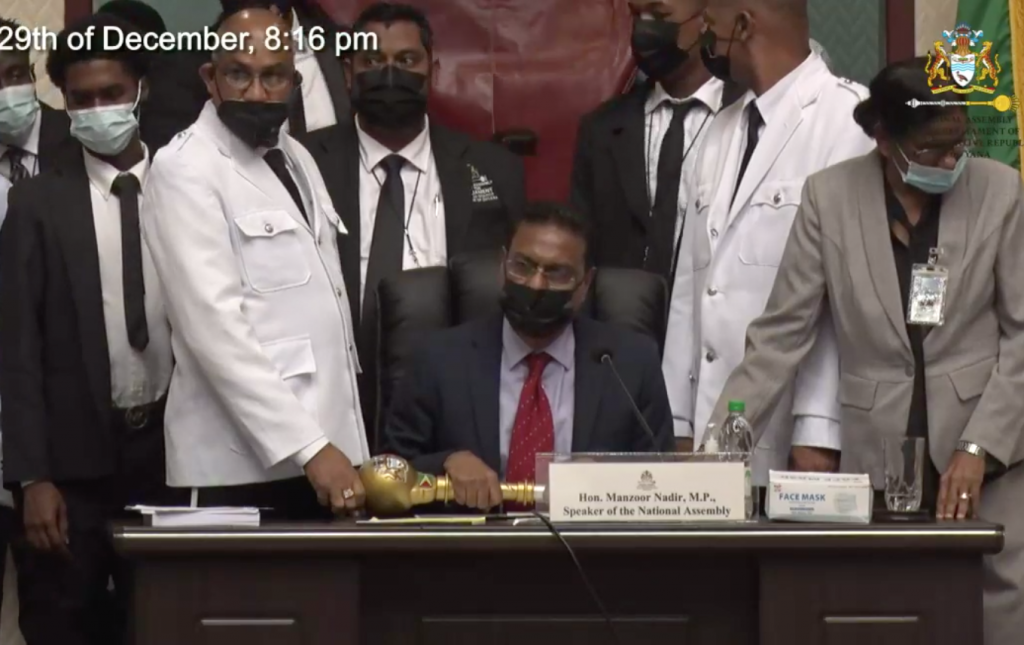 He said the Standing Orders of the Assembly offer a menu of measures that could be taken against Members when they operate out of place in the Assembly. While he would not single out what specific action will be taken, he said there will be consequences.
"We are going to have to enforce the rules", Mr. Nadir said, as he admitted that he has been lenient with Members of the Assembly and statements that they have previously made outside of the Assembly.
The Speaker said Guyana's Parliament is a young one and while it is understandable that emotions will run high, there must be civility and the following of the rules of the Assembly.
The controversial Natural Resource Fund Bill deals with the management of Guyana's oil resources and earnings from the oil industry. There were calls for the Bill to be sent to a Special Select Committee for more consultation, but those calls by the Opposition and some Civil Society groups were ignored.
The Government has been accused of removing independent oversight of the Natural Resources Fund with the passage of the Bill.