Opposition and People's National Congress Leader David Granger has taken his "One Nation" concept for a new and developed Guyana to Senior Officers of the Guyana Defence Force.
On Thursday, the retired GDF Commander, Brigadier Granger addressed mid-career Air Corps, Coast Guard and Ground Forces military officers who are attending the Senior Command and Staff Course.
According to a statement from A Partnership for National Unity, "Brigadier Granger highlighted five challenges – National Unity, National Security, Economic viability, Educational apartheid and Good Governance – facing Guyana. He suggested that the military officers should focus them as they embarked on a new phase of their careers".
The release said he told the officers that Guyana was still not yet a unified nation and that the nation "could not progress without a greater degree of unity" and this was the basis for his repeated call for 'One Nation.'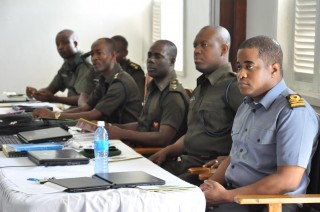 On the challenge of national security, while recounting the Surinamese Navy's intrusion into Guyana's seaspace in 2000, Brigadier Granger expressed alarm over the incursion of a Venezuelan Navy Frigate into Guyana's waters in October 2013. He said that the threats to national and public security, resulting from porous borders and sea space and the lack of resources for the Guyana Police Force, the Guyana Defence Force and the Coast Guard were major problems.
According to the release, Granger told the officers that extreme poverty was a challenge to economic viability. He lamented that the economic development of many regions continued to be held back because of poor infrastructure.
"Education apartheid was also becoming evident. Despite celebrating the performance of  a few brilliant high-performers at the NGSA and CSEC on the one hand there were also about 7000 dropouts from primary and secondary schools countrywide every year on the other hand. He told the officers that such a large number of poorly educated youths was bound to impact immediately on employment and, in the longer term, on the economy", the Opposition Leader noted.
The release said that Granger closed his presentation to the officers by addressing the challenge of governance. He said the time for 'winner-takes-all politics' had long passed. He iterated his call for a government of national unity base on shared governance and inclusionary democracy.
The APNU said the military officers posed several searching questions to the Opposition Leader in the interactive session at Camp Ayanganna.
NEWS Source 7th August, 2014