Chief Justice Roxanne George this morning set Friday for all oral submissions to be made in the latest election case that has found its way before the Court.
During a case management conference this morning, Justice George said she is hoping to provide a decision by Sunday, but that will be dependent on the submissions that are made.
Written submissions in the matter are to be handed in by Thursday. Already, a number of Attorneys have made submissions.
A number of parties have joined the proceedings as respondents and along with the applicant and the original respondents, they will all be given time to make their oral submissions on Friday afternoon.
"Having read the application, to my mind, the nub of the issue is whether Order 60 (The Recount Order) issued by GECOM, whether that Order was valid and is valid to such as to permit a declaration of the March 2nd, 2020 election results based on the recount pursuant to that Order 60. To my mind, all the 28 odd claims for relief are hinged on that issue", the Chief Justice said.
The applicant in the matter, private citizen Misenga Jones, is seeking a declaration that the Chair of the Elections Commission is acting outside of the Constitution by the decision not use the March 13 declarations by Returning Officers towards a final declaration of the elections.
The Court is also being asked to declare that the GECOM Chair failed to act in accordance with the Constitution by her failure not to declare final results based on the advice of the Chief Elections Officer.
The applicant also wants the Court to declare that the Guyana Elections Commission has no authority to declare any person President except in accordance with the advice of the Chief Election Officer in his final report under the Representation of the People Act.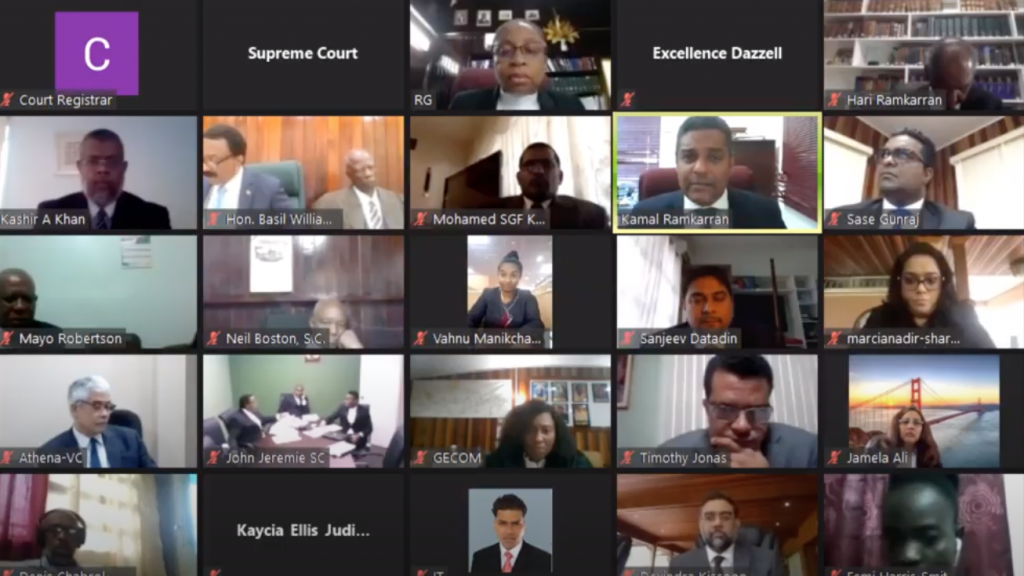 With the matter now before the Court the Chairperson of GECOM, retired Justice Claudette Singh, through her Attorney Kim Kyte gave the undertaking that the Commission will not move ahead with any decision until the outcome of the proceedings.
The Chief Justice encouraged the Attorneys for the applicant and all of the respondents to be concise in their submissions.
This latest move to the Court has further delayed any final declaration of the elections results, more than four months after the elections were held.
The PPP has described the move to the Court as an abuse of the justice system while the incumbent APNU+AFC has said it remains committed to abide by the Constitution and the Representation of the People Act Chapter 1:03 which provides for the declaration of the results by the Elections Commission.