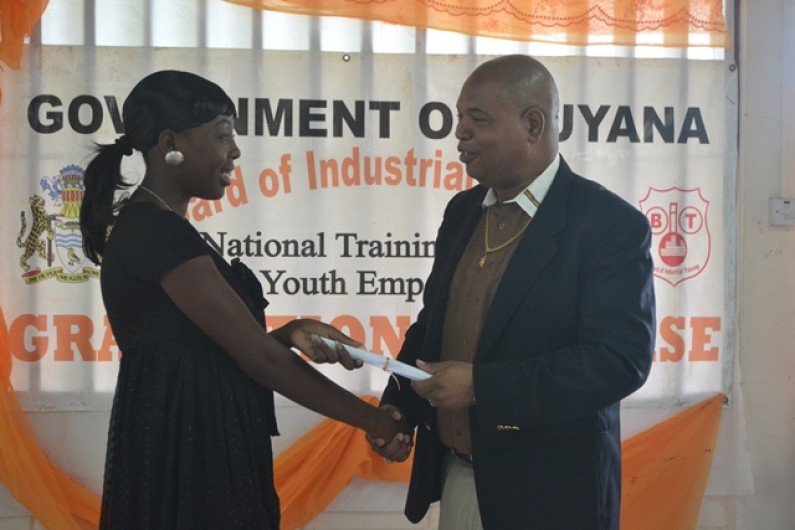 The Board of Industrial Training (BIT) is being lauded for its critical role of guiding hundreds of young people in the direction of developing occupational skills and entrepreneurship. The programme which is intended to empower school leavers and single parents is continuing to impact Guyanese positively by providing technical and vocational training in several areas.
On Friday, 175 Lindeners graduated from the BIT programme which is being administered and delivered through the National Training Project for Youth Empowerment (NTPYE), at a ceremony held at the Egbert Benjamin Hall, Linden. Under the programme, single parents are also afforded the opportunity to be trained in the occupational areas offered.
One hundred and thirty (130) persons graduated from the youth empowerment programme, while 45 graduated under the single parents' programme. Among the youths who graduated were 41 engineers, 4 mechanics and 36 heavy-duty equipment operators, while 23 graduated with health services certificates. Under the single parents' aspect, 20 persons completed catering, 15 garment construction, and 10, cosmetology.
Retired Chief Executive Officer (CEO), Linden Hospital, Mr. Gordon Gumbs, commended BIT for the training empowerment programme which is focused on developing Guyana's human resources. "This investment which the Government of Guyana has made in all of you, and the empowerment, should inspire you to contribute to the country of your birth and to the tax payers of this country who all made it possible".
Minister within the Ministry of Finance, Juan Edghill emphasised the importance of the programme in moulding its participants into skilled young men and women who will be well equipped to contribute to national development. He added that the BIT initiative is a demonstration of government's commitment to investing in the development of Guyana's human capital.
The Minister spoke to the relevance of the initiative, pointing out that the graduates coming out of the training programme can immediately fill vacancies that exist, both in the public and private sectors. "The Board of Industrial Training must be congratulated highly, because the programmes that they are offering you whether you are a single parent, or young people who are having another chance are programmes once you have completed them you are relevant to society".
BIT was established in 2005 under the industrial training act and it is committed to strengthening capacity and providing training opportunities for school leavers and single parents.
The programme is geared to enhance the skills and competencies of the participants via on the job training and exposure to life skills education. In 2013 the NTPYE trained 1, 629 persons in eight administrative regions. Recently 29 youths graduated from Bartica, Region 7, while another 429 graduated at the Leonora Technical Training Centre, Region 3 and 276 in Berbice.