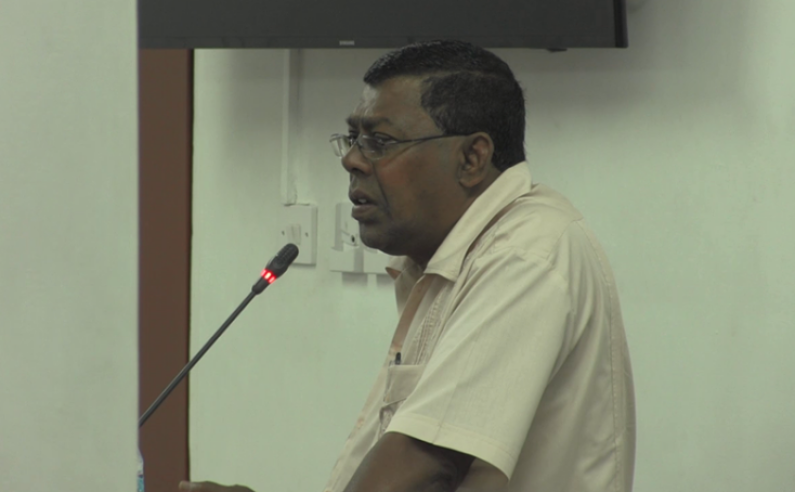 A two-week investigation by the Police Force's Office of Professional Responsibility back in June 2008 ended with no useful information that could have implicated or eliminated the Joint Services from any involvement in the murder of eight miners at Lindo Creek.
This is according to the Head of the Office of Professional Responsibility, Heeralall Mackhanlall,who took the stand at the Lindo Creek Massacre Commission of Inquiry today.
Mr. Mackhanlall who was Deputy Head of OPR at the time, recalled being told by the then Head of OPR, that he would be going to the area where the eight miners were found dead to investigate rumors of the involvement of the Joint Services.
He said he received the instructions seven days after the remains were found and immediately journeyed to Kwakwani, along with senior Police officers and ranks from the Criminal Investigations Department of the Police Force.
He said he interviewed several persons but got "no useful information."
He then went to the scene where the men were found, accompanied by the ranks, and carried out checks to see if there were any nearby camps.
Although the terrain was new to Mackhanlall, he said he never received information from the Geology and Mines Commission on the possibility of camps in the area.
He said he managed to question several other persons, including security guards at a check point but again received no useful information to even determine where the rumor had originated.
Mackhanlall said he then informed OPR Head of the outcome and returned to Georgetown where he briefed then Commissioner of Police, Henry Green who then informed him that CID would continue the investigation.
He said he never prepared any report on his investigation, which he told the Commission lasted for two weeks and began seven days after the remains were found.
Mackhanlall did say that he was able to confirm that a Joint Services patrol was in the area and that patrol consisted of 23 persons. There were 12 Police ranks and 11 GDF ranks.
He said the firearms of the ranks were tested by a Jamaican team that arrived in the country and were found to be used but that was also not useful in determining the involvement of the Joint Services, particularly because of the time that had elapsed.
Mr. Mackhanlall said no spent shells were found at the scene where the remains were discovered, piled on top of each other and burned.
He summed up his testimony by telling the Commission that he was unable to eliminate or implicate members of the Police Force or the Guyana Defence Force in the killings.