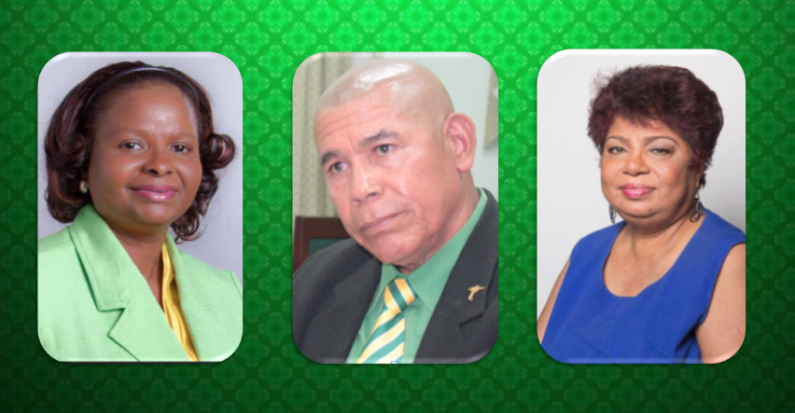 Although three months ago, President David Granger indicated that there would have been no cabinet reshuffling, there are multiple reports that he has now taken a decision to shake up his cabinet and three Ministers who are all senior members of the People's National Congress could find themselves heading different Ministries.
According to Government sources, Health Minister Dr. George Norton, is likely to be transferred to the Ministry of Social Cohesion, which falls directly under the President's Office.  That move could be seen as a major demotion for Norton who will now head a much smaller staff and a Department that falls under the President's supervision.
When contacted on Sunday, Dr. Norton said he could offer no comment at the time, but indicated that announcements could come on Monday.  He did admit hearing whispers of a possible transfer while not being officially informed.
Norton found himself at the centre of a number of controversies related to the rental of a drug bond for the Ministry of Health.  He found himself in more hot water in December during the budget debates when an impromptu tour of the bond revealed that while medical supplies were being stored at the location, there was no storage of medicines or tablets.
The Government sources also revealed to News Source that Minister of Social Protection, Volda Lawrence, is likely to be moved to the Ministry of Public Health.
Ms. Lawrence, who has widespread experience in accounting practices is likely to take a more involved approach to the Health Ministry.
She also found herself in some political controversy in 2016 when it was revealed that one of the persons approved as a candidate for the APNU+AFC at the local government elections, had been accused of sexual misconduct, although he may have never been charged or convicted.
Though, her decision to approve his candidacy was done at the party level, many commentators took offense to her defence of the man's candidacy, while being the Minister of Social Protection.
Minister of Social Cohesion, Amna Ally, is expected to be transferred to the Ministry of Social Protection.  That move would add more responsibilities to her portfolio and have her overlooking one of the large Ministries, which also covers labour.
If the moves go through, it would indicate a full shake up of that Social Protection Ministry.  Last year, the junior Minister of Social Protection, Simona Broomes was transferred and now serves as the Minister within the Ministry of Social Protection.
News Source understands that the President's decision could be announced to the full cabinet today during the first cabinet meeting for the year.
In addition to the likely cabinet shuffling, a senior government official has confirmed that a number of Permanent Secretaries could be transferred as part of another shake up.
 The Agriculture and Health Ministries could be among those expected to see new Permanent Secretaries moving in this year.
It is unclear what other changes the President might make to his government officials as he enters the third year of his Presidency later this year.
There have been calls for the Department of Culture and Sport to have a more proactive Minister and many observers have also called for Minister within the Ministry of Natural Resources to be given added responsibilities as she has proven to be one of the best performing Ministers.  Minister within the Ministry of Communities, Valerie Patterson, has also been winning praise from members of the public for her on the job performance.