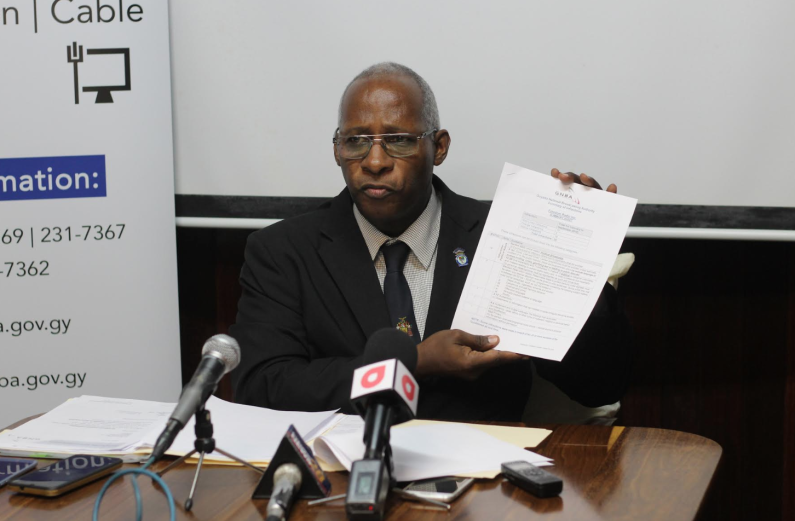 The Guyana National Broadcasting Authority has rubbished recent statements by the Opposition Leader that the sanctions against the PPP affiliated Freedom radio station and MTV Channel 65 were as a result of the President being described as a "charlatan".
At a press conference today, Chairman of the GNBA, Attorney Leslie Sobers dismissed that claim and said Freedom radio and MTV 65 had been found to have breached the broadcasting regulations and rules on multiple occasions, resulting in them making 53 infractions.
Mr. Sobers said he will not allow the GNBA to be characterized as any political tool since the body has no political agenda and has been doing its work according to the regulations that were put in place by the Government and Opposition in Parliament.
" GNBA did not sanction Freedom Radio or MTV for airing any comment against His Excellency that had to do with calling the President a " Charlatan". This contention by the Leader of the Opposition can only be a reaction of his own conscience and knowledge that it is defamatory to one's reputation to make disparaging comments that cannot be justified", Sobers said.
He said while the Broadcasting Authority condones the freedom of expression, broadcasters must be reminded that the same freedom comes with a degree of responsibility that is outlined in the Constitution.
He explained that it is under those said provisions that the body came up with guidelines and those guidelines were breached a total of 53 times by Freedom Radio and MTV 65.
Mr. Sobers told reporters that the two broadcasters were called in because they aired several programs that included language or scenes that inserted crimes, glorified war or leading to public disorder.
Some of breaches came during the "Free Talk" programme hosted by former PPP Member of Parliament Mansoor Nadir and and the View Point programme aired on MTV 65. That programme is hosted by PPP activist and MTV Editor, Edward Layne.
The GNBA said that during one of the programmes, the host and callers referred to various government officials and public figures with degrading names.
He said such occurrences should not be taking place and the broadcasters are aware of the rules.
The PPP's radio station and the MTV television station have both moved to the Courts to challenge the fines instituted against them by the Broadcasting Authority.