The People's Progressive Party in a statement about alleged opposition links to criminals labelled murdered Agricola youth Shaquille Grant as a criminal.
Grant was the young man who was murdered in cold blood in 2012  by the Police while he was hanging out with some friends in a relative's yard in Agricola. Three police officers were charged for his death, two of them remain on the run.
In its press release, the PPP sought to link Opposition Leader David Granger to another young man from Agricola Kevin Fields who was shot dead by a businessman during a robbery earlier this year.
Fields was in a photograph at the 2012 funeral of the murdered youth Shaquille Grant while Granger was consoling Grant's mother.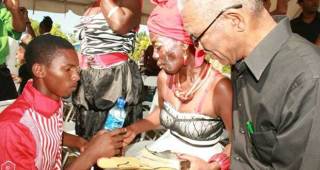 Grant was never charged for any crime and had no criminal record or was not linked to any criminal activity when he was gunned down by the Police on September 11, 2012.
The PPP in its statement on Thursday  stated that "the opposition leader Mr. Granger was photographed in the company of gun-toting bandit Kevin Fields, during the funeral of a criminal killed by police."  That funeral was the funeral of the murdered youth Shaquille Grant.
When Grant was gunned down by the Police, Home Affairs Minister Clement Rohee who is now the General Secretary of the PPP, expressed concern over the young man's murder and called for a thorough investigation. Rohee was photographed with the same young man his party now labels as a criminal, presenting him with a certificate after he had successfully completed a community anti crime programme that was sponsored by Rohee's Ministry.
Grant was 17-years-old when he was gunned down by the police. Following a full probe into the teenager's death, three police officers were charged for murder. Only one appeared in court and was committed to stand a high court trial for the teen's murder. The other two police officers have  never been located since and are believed to be hiding out in Suriname or a Caribbean country. The Guyana Police Force has stated that searches continue for the two men and interpol has been alerted to their disappearance more than two years ago.
Filed: 27th November, 2014