At the Georgetown Magistrates' Court this morning, PPP Member of Parliament and former Attorney General Anil Nandlall filed charges of misconduct in public office against Minister of Public Health Volda Lawrence and Minister of Social Cohesion, Dr. George Norton, who is also the former Minister of Public Health.
The private charges are related to the rental of a building for use as a storage bond for drugs under Norton and the emergency purchase of drugs for the Georgetown Hospital under Lawrence.
The two informants being used in the two cases are PPP Members of Parliament, Juan Edghill and Vickram Bharrat.
In the private charge presented to the Chief Magistrate, Nandlall is contending that in both cases there was misconduct in public office and an abuse of public trust.
The private charges against the current Minister of Public Health were filed although she was cleared of any wrongdoing by the Public Procurement Commission following an investigation.
Nandlall and Edghill today said the People's Progressive Party is pursuing the charges against the two sitting Government Ministers on the same grounds that former Finance Minister, Dr. Ashni Singh and former Head of the Privatisation Unit, Mr. Winston Brassington were recently charged.
When reminded about the Public Procurement report which cleared Lawrence, Edghill said the charges have been filed based on information that the PPP/C opposition has in its possession.
Turning his attention to Minister Norton, Edghill said he is being charged for the role he played in the rental of the Sussex Street Bond.
This again, he said was done through breach of the procurement process. Attorney Anil Nandlall said he is not worries that the the move by his party might be seen as a tit for tat over the move by the Special Organised Crime Unit to charge two officials of the former Government.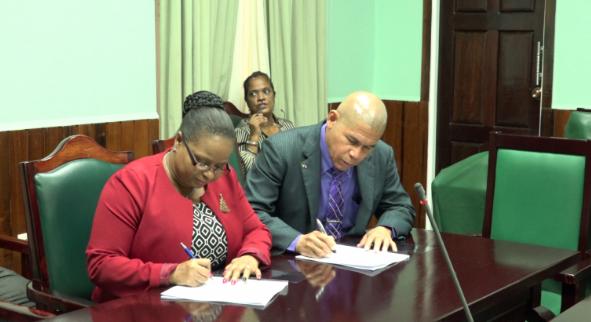 He explained that those charges should not have been laid. He has still not heard back from the office of the Director of Public Prosecutions about his request to have the DPP drop the charges against former Finance Minister Ashni Singh and former Head of NICIL, Winston Brassington.
Nandlall said he could have filed charges against the Permanent Secretary in the two cases against the sitting Ministers, but noted that it is the Ministers who have ultimate responsibility over their Ministries. He said he will be looking to see if the DPP will be approached to drop charges against the two and how that will be handled.
Lawrence and Norton will be expected to appear in Court next week for the charges to be officially read to them.