President Irfaan Ali has pledged to further deepen relations with the United States, in areas where both nations can equally benefit.
On Monday, the President met a number of high-ranking US government officials including U.S Secretary of State, Anthony Blinken.
During that meeting, the issue of food and energy security, climate change, and debt, among other issues were discussed.
Later, during a discourse hosted by the Atlantic Council, on how he envisions the future of the US-Guyana relationship, the President said there should be greater collaboration between the two sides.
"The goal of this week is to bring harmonization between the plans and the programmes of Guyana and the aspirations of the US, both at the governmental level and the private sector. We cannot have a partnership unless the two countries have a fulsome understanding of the development priorities, the challenges and the opportunities and how those challenges can be mitigated and how those opportunities can be advanced," the President said.
The President reiterated that the United States is a "valued partner" and that the two countries share a "special relationship" and common views on critical issues.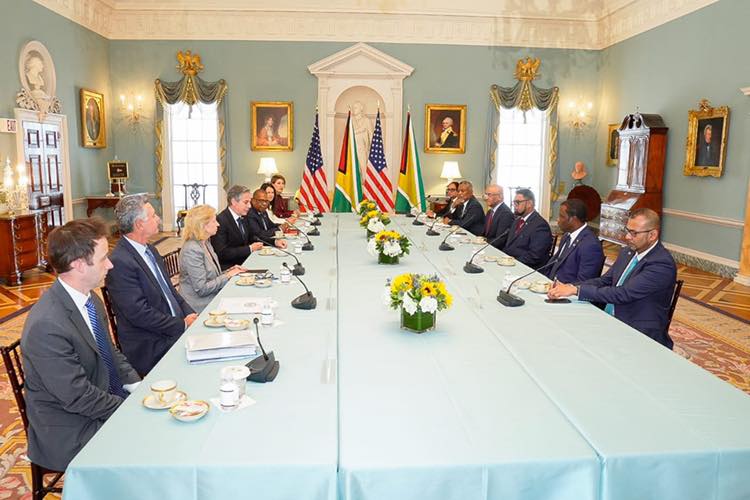 "The US has always been very supportive of the growth and development of our country, and more recently, the US has been very instrumental and supportive in ensuring that democracy prevailed in our country, and that came about because of the fundamental value system of the US. The way the United States values democracy and the political party I come from, we share those values." The President added, according to a release from his office.
The President further explained that while the Guyana Government seeks to transform the country with the new oil economy, there are certain technologies and infrastructure that are lacking. He is hoping that the US can play a role in solving those problems.
"What we're seeking to do is to expand that participation in all the other sectors, the emerging areas, ensuring that the US is at the table on climate change, on us finding the balance in terms of energy security, working together in dealing with transnational crime. We have had an aggressive increase in our collaboration and partnership in dealing with security issues," the President noted.
U.S Secretary of State, Anthony Blinken, also spoke of the need to deepen relations with Guyana. He said Guyana has been a strong partner of the US and a global leader in many ways and the two countries are working together to find solutions to address challenges in Guyana and the region.