Leader of the Opposition Joe Harmon has dismissed the President's position that he will only engage in consultation with him when he (Harmon) recognises the President and Government as legitimate.
"I offer my considered rejection to this notion. This is an absurd proposition and a continuation of the intransigence of the PPP regime in absolutely refusing to engage in dialogue. I am, as I have been and as is well known, since being appointed Leader of the Opposition prepared to meet with President Ali in the best interest of advancing the cause of the Guyanese people", Harmon said today.
The Opposition Leader's statement came in response to the President once again shooting down calls for the two to start consultations on issues of national importance.
According to the Opposition Leader, "it continues to be clear as day that the PPP regime and President Ali has no interest in genuine consultation and dialogue; he has no interest in all Guyanese who he claims to represent; he has no interest in One Guyana. He is purely and adamantly concerned only with being in power and less than half of Guyana who represents the PPP supporters".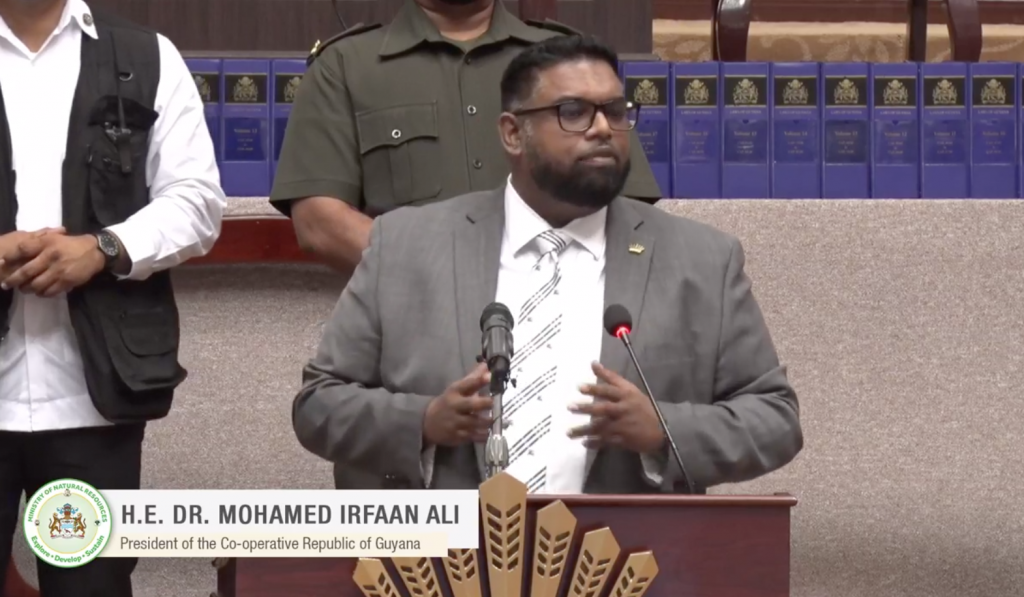 Mr. Harmon maintains that the Guyana Constitution does not set pre-conditions for any consultation and dialogue between the President and the Opposition Leader. He said the President must decide if he is really interested in putting country first.
"Mr. Ali and his handlers in the PPP can decide whether they want to put the country first, as I am prepared to do, or they wish to continue with their discriminatory, partisan and isolationist approach. I have stated from the outset and I reaffirm now, once again, that I am prepared to meet with President Ali at a mutually convenient time in the interest of meaningful dialogue and consultation and with a view to advancing the interest of the people of Guyana".
The Opposition Leader has repeatedly indicated his readiness to consult with the President on national issues. He said the government and the Opposition must agree that constructive engagements be based on clear principles and broadened stakeholdership at the National, Regional, and Community levels.
He wants the meetings to focus on poverty, ethnic marginalization, the protection of Guyana's sovereignty and patrimony, and the COVID-19 Task Force among other issues.
The Opposition also wants the two sides to look at the updating of election laws.