As Guyana ushered in its 57 Independence anniversary, President Irfaan Ali reflected on the strength of the nation through difficult circumstances, as he made reference to the Mahdia dorm fire tragedy, which claimed the lives of 19 children.
The President announced that a Commission of Inquiry into the incident and the circumstances that led to it will be conducted.
In his independence address to the nation, President Ali said the government has committed to doing everything that is possible to assist those affected, and the support will be ongoing.
He said the Commission of Inquiry will investigate all the causes and circumstances of the fire which destroyed the dormitory, and will also inquire into related issues. The findings of that inquiry, he said, will inform the way forward.
The President told the flag raising ceremony that "we will never forget these children. They will remain in our hearts forever. But we will overcome this tragedy. Of this, I am confident and even more so because we are a resilient people. We can find strength and assurance in the struggles and sacrifices of our ancestors. They laid the foundation for the creation of a free and independent Guyana."
President Ali reminded that Guyana's Independence was gained through the heroic struggles and sacrifices of the nation's people, adding that the country's history is punctuated by the overcoming of tragedies.
"Tragedy, though painful as it is, offers that branch of healing as a nation and as a people. Understanding the fragile mortality of life and the temporary nature of our mission – that mission we are so committed to- in service to humanity and country.  Tragedy is not a weapon of self-convenience and selfishness. It is not an occasion for aimless rhetoric – rather it occasions, a deeper understanding of life and requires greater maturity to project a platform for healing – one in which the collective whole is more important than self-ambitions", the President said.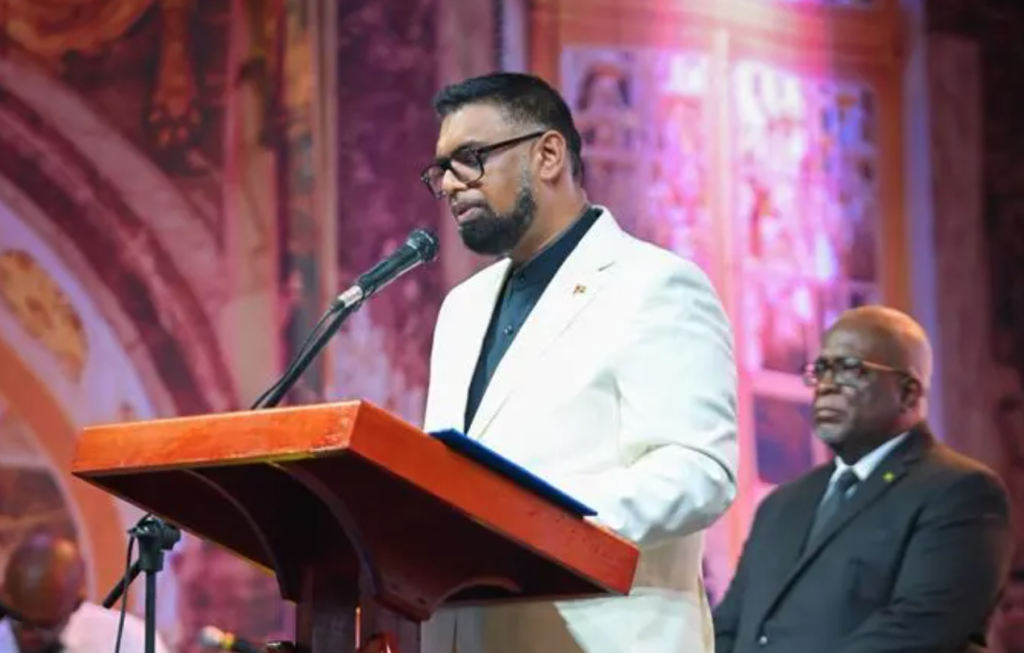 He added that the country has experienced pain and tragedy before, and the country will overcome and be better. This year's Independence Flag Raising ceremony was hosted in the town of Lethem, and deviated from its usual celebratory tone, as homage was paid to the children who lost their lives in the Mahdia dorm fire.