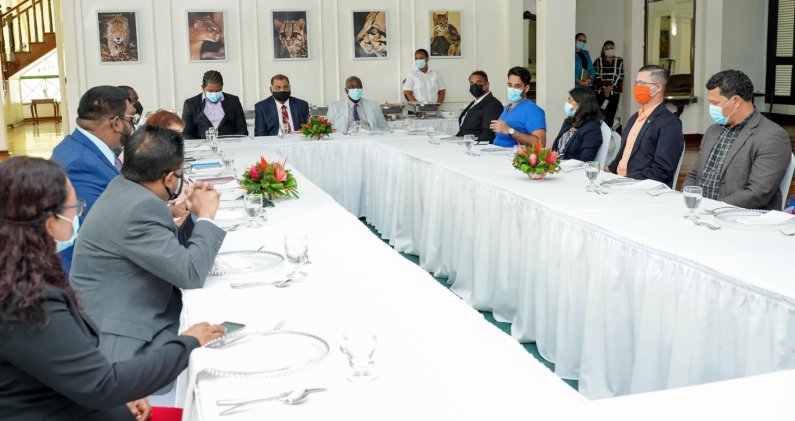 Over lunch at State House, President Irfaan Ali and a Government team of six Ministers today held initial discussions with officials of the small parties that took part in the last elections, including those that did not win any seat in Parliament or on a regional council.
According to a statement from the President's Office, the President felt it was necessary to have a working lunch with the small parties and examine their thoughts as the Government moves ahead with its plans for Budget 2021.
"You are all stakeholders in this process. And as we have embarked on Budget 2021, I thought it necessary that at least we have a working lunch and examine some of your thoughts, some of what you see as priorities, so that we can have a discussion, so that we can consult, so that we can arrive at a programme in which all of Guyana feel as if they're part of it", the President said.
Present at the engagement were representatives from A New and United Guyana (ANUG), Liberty and Justice Party (LJP), the Citizenship Initiative (TCI), the New Movement (TNM), United Republican Party (URP) and Change Guyana.
The President told the small party representatives that there is the need for collective ownership of Guyana's development trajectory.
"And that is the greatest project we have that is utmost on my mind… We can build a country that is strong, prosperous and economically viable. That takes critical thinking, that takes vision, that takes clarity, that takes action, but coming together and unifying requires a bit more."
At the meeting, he also spoke about his continued refusal to engage with the Leader of the Opposition, Joe Harmon, claiming that the Opposition must first recognise the legitimacy of his government.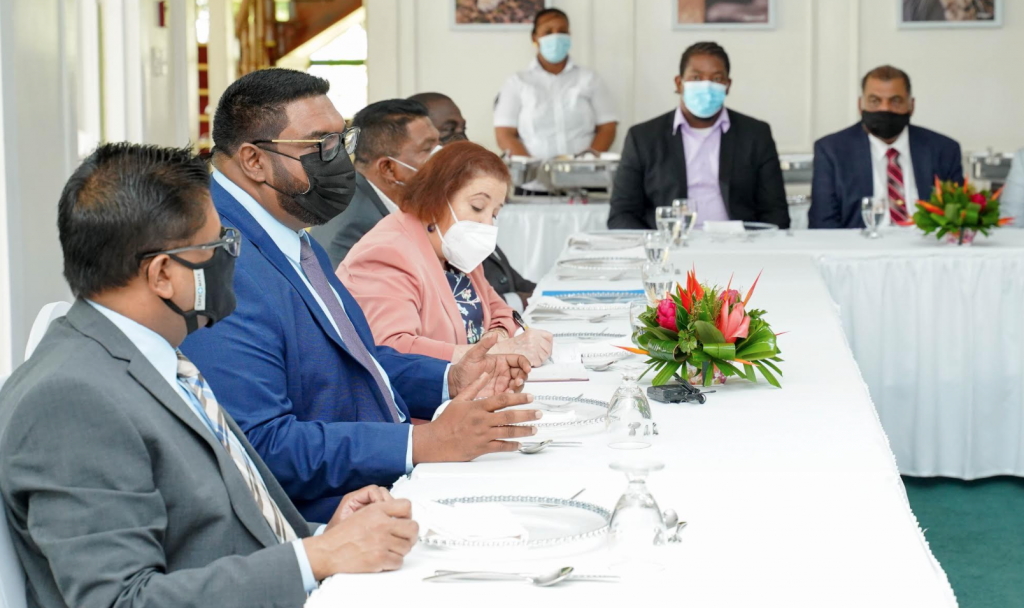 "We have been reaching out and trying our best… I invited former President Granger to a meeting that he did not attend and then we have the one component of the opposition who are still mischievously peddling the agenda that the Government is illegitimate so we have to deal with things in context… that narrative has to be corrected."
Former President Granger had refused to attend the meeting of former Presidents saying there was no agenda in place and the President should really be engaging the Leader of the Opposition who represents more than 47% of the voters at the last elections.
Along with the Budget discussion, the small parties were also briefed on the developments with Venezuela.
Up to yesterday, the main Opposition had not been briefed on the issues with the Venezuelan seizure of Guyanese owned fishing boats and the detention of the crews.