President David Granger on Wednesday urged renewed vigilance as he handed over the keys to two new Metal Shark Aluminum boats to the Guyana Defence Force (GDF) Coast Guard.
The vessels which were acquired from the USA were bought by the Guyana Government and is intended to boost the capacity of the Coast Guard to combat illegal activity on Guyana's sea line and its internal waterways.
President Granger said he believes the move is a step in the right direction, particularly with heightened economic activity in Guyana's maritime waters.
He pointed to the petroleum exploration and fishing that is taken place in Guyana's offshore waters and said he hopes the provision of these assets to the GDF will give greater assurances of safety to citizens and investors.
"We can never fall asleep on security or default on our duty to this nation," the President said.
President Granger, a retired Brigadier, said there remains a need for internal vigilance to ensure the protection of people and the preservation of peace and called on the coast guard to ensure that it continues to look out for all illegal activities including the smuggling of narcotics and contraband, illegal fishing, piracy and any threat to Guyana's sovereignty.
This shared responsibility, the President noted, was a heavy burden on the security forces. He, however, pledged to continue to provide the necessary assets for the recapitalization of the Coast Guard.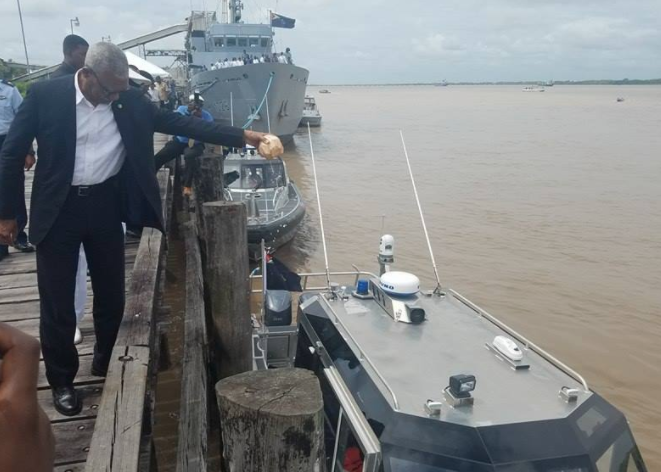 The commissioning ceremony took place at the Coast Guard Shipyard at Ruimveldt where the symbolic dedication of the vessels and a demonstration of their force took place.
Among those in attendance was Chief of Staff, Brigadier Patrick West.
The Chief of Staff delivered brief remarks and reminded of the three boats that Guyana received from the U.S back in 2014.
He said those boats performed exceptionally well and yielded tangible and intangible results and congratulated the government on this step to improve the Coast Guard's capacity.
The Metal Shark Boats, which were built in the United States, are equipped with sensitive communication equipment.
The boats will be used for searching, waterborne ambush and night movement including insertion, extraction, assaults, blocking action, convoy support and high transit protection. (Kurt Campbell)