President David Granger has described as "astonishing", the raising of matters by the Guyana Teacher's Union General Secretary in the press, that he says, were not raised at the two most recent meetings with Government officials.
The President's statement came this morning as he responded to questions about a possible rejection by the Union of Government's most recent offer to teachers.
He said "some of the matters which seem to be reported in the media were not raised on Monday and were not even raised on Friday. Otherwise, we would have resolved them. So it is quite astonishing that these matters going back to the appointment of an arbitrator, these matters did not come up at all, so I was quite surprised that matters that we assumed had been settled as of Monday, found their way into the columns of the newspapers".
The President said that coming out of his Monday meeting with the Education Ministry officials and the Union, it was agreed that the Ministry would have met with the Finance Ministry to crunch the numbers for the increase while the GTU would have consulted with its executive.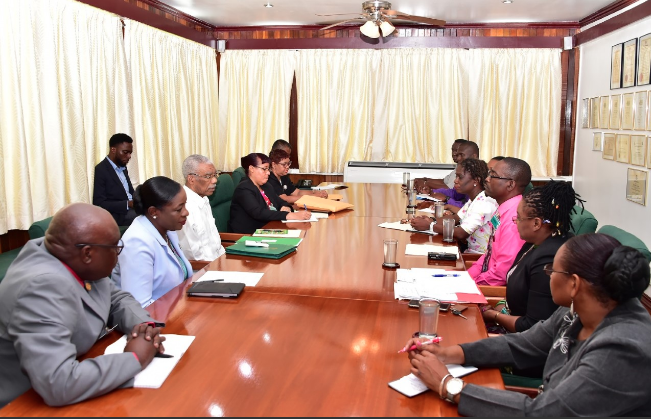 He said the GTU has never conveyed any rejection of the offer  and has not made any counter proposal either.
"So when we parted on Monday morning, there was no talk of going to the media, trial by media, there was talk of verification of figures from the Ministry of Finance and maybe seeking the assent by the executive of the GTU. So frankly, the list of matters raised in the newspapers, in one newspaper and attributed to one person, were not matters raised on Monday", President Granger said.
In an article in today's Stabroek News, GTU General Secretary, Coretta McDonald raised a number of issues that she wants to see ironed out, including arbitration.  President Granger said that with the meeting being hosted to present a new offer, the situation had passed arbitration and it was now at settlement.
The Government is now offering the teachers, a 10% salary increase for 2016 with an 8 percent increase for this year. Additionally, the government is also making $350 million available for debauching for the period 2011-2018.
Payments for debunching and 2018 will be made in December while the retroactive 2016 increase will be made in January 2019 if agreed.
The GTU has explained to its membership via its facebook page that there was an interim payout received for 2016 and 2017 of 6 and 8%.