With local government elections just over a month away, President David Granger stepped into full campaign mode on Monday as he visited the Essequibo town of Anna Regina.
The APNU is pushing to take control of the Anna Regina municipality and President Granger told residents at an afternoon rally that under A Partnership for National Unity, there will be no interim management committees at the various councils.
He said citizens must be able to elect the leaders they want and replace those leaders at elections when they do not perform.
"And let me promise you this Essequibo, there will be no IMCs under the APNU…this town is going to be government by the people you elect. Not by people the Minister of Local Government or the Minister of Communities select. You must be able to look into the eyes of these persons and say what are you doing for Anna Regina. And if they can't give the right answer, tell them they are out next elections", the President said.
President Granger noted that under the last Government, IMCs were installed but yet the problems facing the towns continued.
According to the President, under the IMC, Anna Regina saw a twilight of democracy because its people were governed by persons who they did not select.
"Next month, five weeks from now, you have an opportunity to correct the damage that had been done by the PPP. You have an opportunity. Don't drop the ball. Don't lose the opportunity because you are going to return to stagnation and underdevelopment. So you have to take this exercise seriously. You have to go out there and vote for persons who you know are going to serve your communities."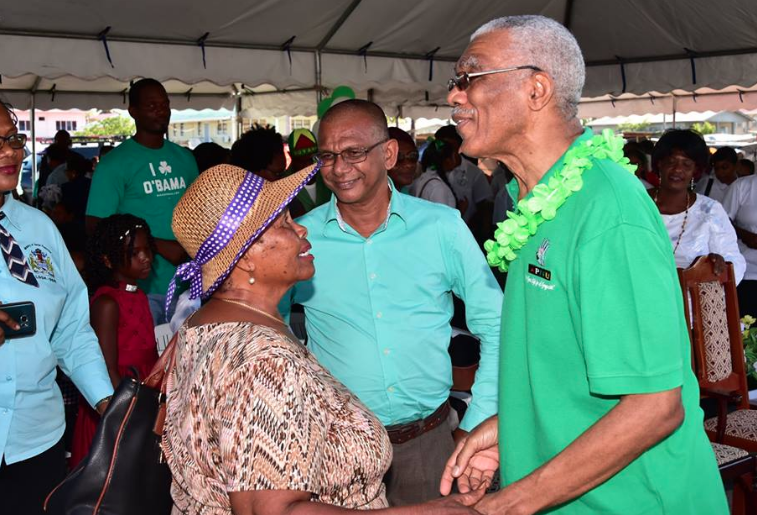 The President told the Anna Regina residents that Guyana has no party other than the APNU that has done so much for local government elections.
He reminded that while in opposition, it was the APNU that was on the street picketing for local government elections and it was the same party that mobilised civil society on the issue.
The APNU is campaigning across the country as local government elections near. The party is contesting in all of the local government areas. President David Granger is expected to make a number of other campaign stops for his party and its candidates across the country.