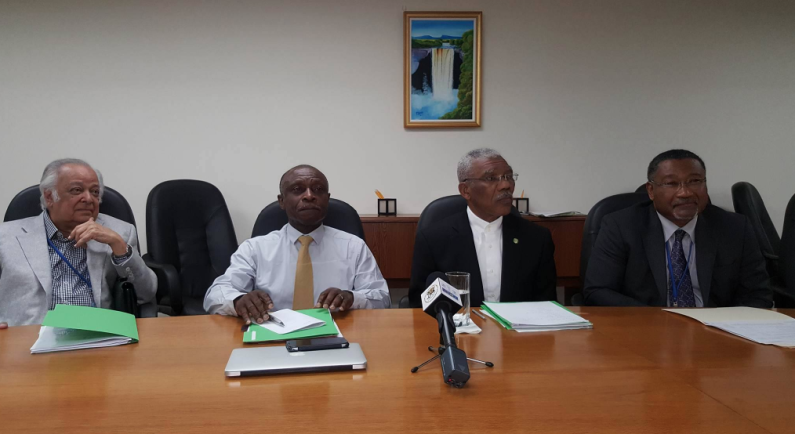 by Kurt Campbell at UN Headquarters in New York
(New York) Ahead of his address to the 71st session of the United Nations General Assembly
on Tuesday
, President David Granger has congratulated outgoing UN Secretary General Ban Ki – Moon for his engagement in Guyana/Venezuela border controversy.
Mr. Granger thanked the Secretary General for pushing for a resolution, within the UN framework, to the decades old border row among neighbours.
The Head of State said he is satisfied with what the SG has done but he was not pleased with the stance Venezuela has taken in the matter and its refusal to act in "good faith."
Guyana will push for the Mr. Ban to refer the matter for a juridical settlement before he leaves office later this year and make way for a new UN SG.
"I don't want to be accused of telling tales out of school but in my experience over the last 50 years, I have not seen a Secretary General so engaged in this matter. He has done everything possible within the last year since our last meeting in Bridgetown and whenever we meet he is always fully abreast with the controversy and I am personally impressed with his sincerity in trying to bring this matter to closure," President Granger said.
The President is hopeful that the outgoing SG, given his engagement over the last year, will do something that will lead to a favourable outcome for Guyana.
Mr Granger and his high level team which includes Foreign Minister Carl Greenidge, Guyana's Permanent Representative to the UN Ambassador Michael Ten-pow and former Commonwealth SG Shridath Ramphal met with media operatives at the Guyana Mission in New York to discuss the country's agenda.
Sir Shirdat is offering technical and legal advice to the government.
A meeting between President Granger and Secretary General Ban-Ki-Moon is set for Saturday where Guyana will be updated on the process.
Since President Granger addressed the 70th UNGA for the first time last year and raised the issue, Chef de Cabinet and other UN representatives were sent to both Georgetown and Caracas to find a resolution to the matter.
Foreign Minister Greenidge noted that so far all other course of actions at the UN disposal have failed Guyana and said a juridical settlement is needed.
Guyana will ask the UN Secretary General to adopt this course of action during the upcoming meeting where the Secretary General will also indicate how he proposes to move forward.
Greenidge reiterated that the Secretary General can only exercise the responsibility that has been given to him in the context of the 1899 Geneva Agreement.
President Granger will speak more extensively on the matter during his address on Tuesday and after his meeting with the UN Secretary General.