Prime Minister, Moses Nagamootoo who is performing the duties of President, sought the Commonwealth Magistrates and Judges Association's support for Guyana's call for the border controversy with Venezuela to be resolved by way of juridical settlement.
Mr. Nagamotoo delivered the feature address at the opening of the Commonwealth Magistrates and Judges Association Conference at the Georgetown Marriott.
"It is a matter which has caused your Excellency, President Granger, to be away from this ceremony this morning. Our oil rich neighbour to the west, Venezuela is making claim to a significant part of our country in which huge oil deposits have been found. I have raised this matter with you your honours, our distinguished guests because you represent a wide spread of Commonwealth jurisdiction and for a cause, we seek your solidarity and support. It is a matter that touches the international rule of law," Nagamootoo explained to the audience.
Further, Mr. Nagamootoo said Venezuela's longstanding claim to Guyana's territory, despite the 1899 resolution, is disruptive to national development and needs to be settled once and for all.
"After 50 years of independence, Guyana deserves a better life. At last, Guyana is on the threshold of a prosperous and exciting future. We can do without this threat confronting us as a border controversy. We are pursuing, as Professor William Bishop espoused, settlement by law. Guyana has proposed to the United Nations a juridical settlement and this is what has taken our president to the United Nations," Nagamootoo said.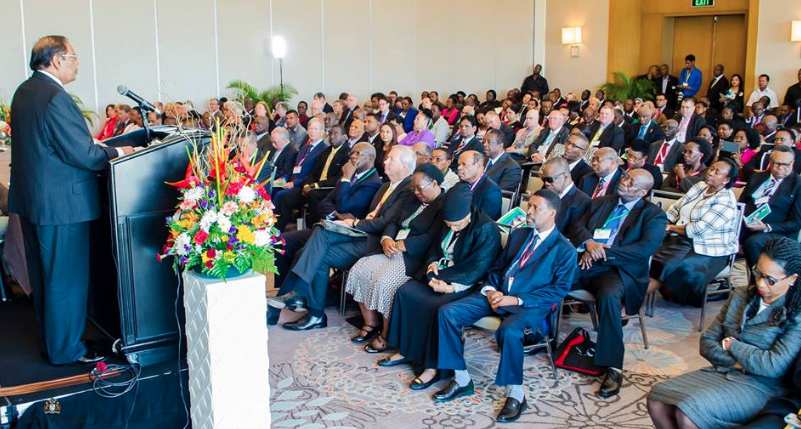 The Prime Minister reminded that "the boundaries between Guyana and Venezuela were identified and settled as a result of the decision of an International Tribunal established to do just that since 1899. It is Guyana's contention that Venezuela's aggressive stand towards us and its past incursions into our territory are violative of international law and norms."
Despite agreeing to the 1899 Tribunal award to settle the  border controversy between itself and Guyana, Venezuela has in recent times continue to lay claim to Guyana's territory alleging corruption on the part of the 1899 tribunal which ruled in Guyana's favour. Venezuela stakes its claims on a death-bed confession of a member of the 1899 tribunal. (GINA)