With the American, British, Canadian and EU Diplomats along with the International Observers pressing the Guyana Elections Commission to return to a verification process for the Region Four elections, President David Granger this morning reminded CARICOM and the OAS that he will not interfere in the work of GECOM.
The Ministry of the Presidency in a statement said President David Granger met this morning with the Secretary-General of the Caribbean Community (CARICOM) Ambassador Irwin LaRocque and representatives of the Organization of the American States (OAS) at his office.
The President told the officials that the General and Regional Elections were orderly and in full compliance with the law and the Constitution.
He reminded them that the Guyana Elections Commission is a Constitutional body and it is unlawful for the Executive to interfere in the operations of the Guyana Elections Commission (GECOM).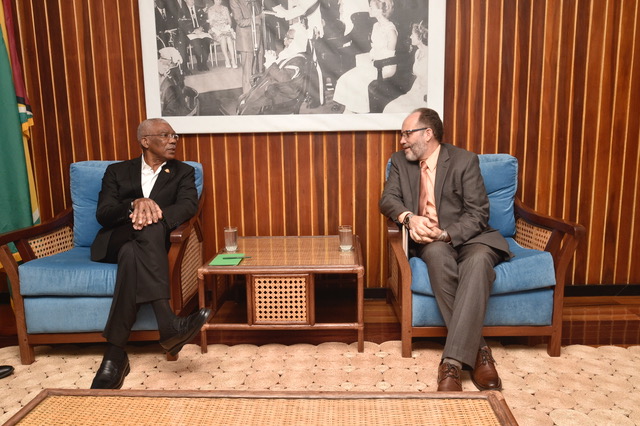 Mr. Granger said it is not the role of the Executive to interfere in the work of the Commission and he has not acted unlawfully.
"We are awaiting the final declaration from GECOM," President Granger said.
The President has briefed also Commonwealth Secretary-General Baroness Patricia Scotland and Chairman of CARICOM, Mia Mottley.
Yesterday, he briefed diplomats from Britain, the United States of America, Canada and the European Union.
The Guyana Elections Commission has not said anything on the mounting calls for it to return to the verification process for Region 4.
With the results declared by the Returning Officers, it pushes the incumbent President ahead of his rival, the PPP's Irfaan Ali.