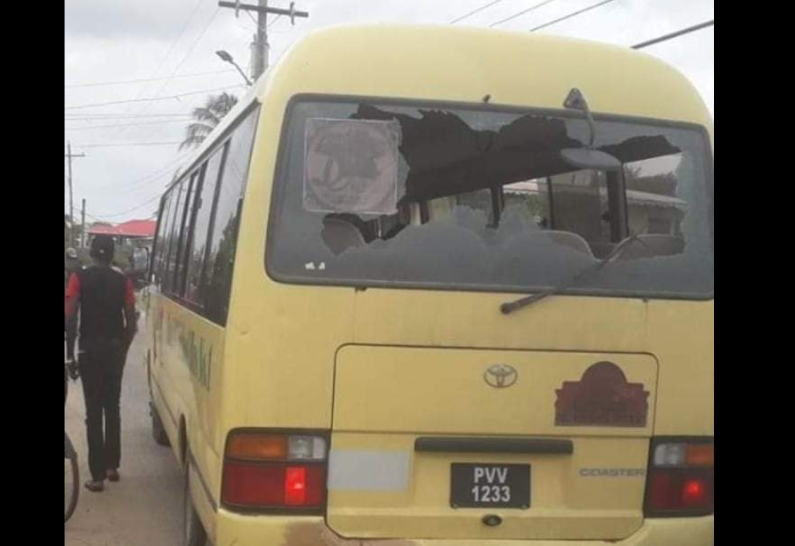 Four children were taken to the Fort Wellington Hospital in Berbice with injuries after a group of protesters attacked the David G school bus as it made its way through Bath Settlement.
Since early this morning, the protesters who are supporters of the People's Progressive Party have been protesting against the elections and the declaration of results for Region Four.
Tyres and other debris were set alight on the roadway as scores of protesters gathered, demanding a restart of the verification process for the Region Four votes.
A short video recording of the attack on the school bus taken from inside the bus showed the children running for cover in the bus as the protesters started to pelt objects at it, smashing the back windscreen.
The Region Five RDC in a statement on its Facebook page confirmed that four children were injured and taken to the hospital. News Source understands that they have since been released.
The David G bus is part of the President's public transportation system for school children. The buses are in several regions and provide free daily transportation to and from school for the children.
Closer to Georgetown, protesters also gathered at Lusignan blocking the main roadway and setting tyres and other objects on fire.
PPP Candidate, Attorney Anil Nandlall rushed down to the area and asked the protesters to keep the peace. He said the PPP was handling the matter and he is confident that they will triumph. He encouraged the protesters not to block the roadway.