Senior Officers of the Guyana Police Force were encouraged today by President Irfaan Ali to put Guyana first and play an integral role in the country's future.
Addressing the officers at their annual Christmas Breakfast, the President said he does not want the officers to become politicians, but he wants to see them do more work in the interest of the country.
"Those who have negative attitudes, and those who seem unwilling to be part of the future of this country by stepping up your responsibility, sadly you will be left behind. And I have no apologies in saying this, I am not asking any of you or anyone to be politicians or to love me or to love the PPP or to love the government. I am asking you to love your country, love your job and love the people of this country and that is all I am asking", the President said to loud applause.
He warned that those who fail to put their country and its people first will find themselves being left behind as the country moves forward.
According to the President, "there is a place for every single person, so let us be smart and let us be strategic and let us be committed".
President Ali also told the senior Police Officers that his government will continue with its efforts to develop the Police Force and ensure systems are in place to encourage ranks to do their best as they do their job.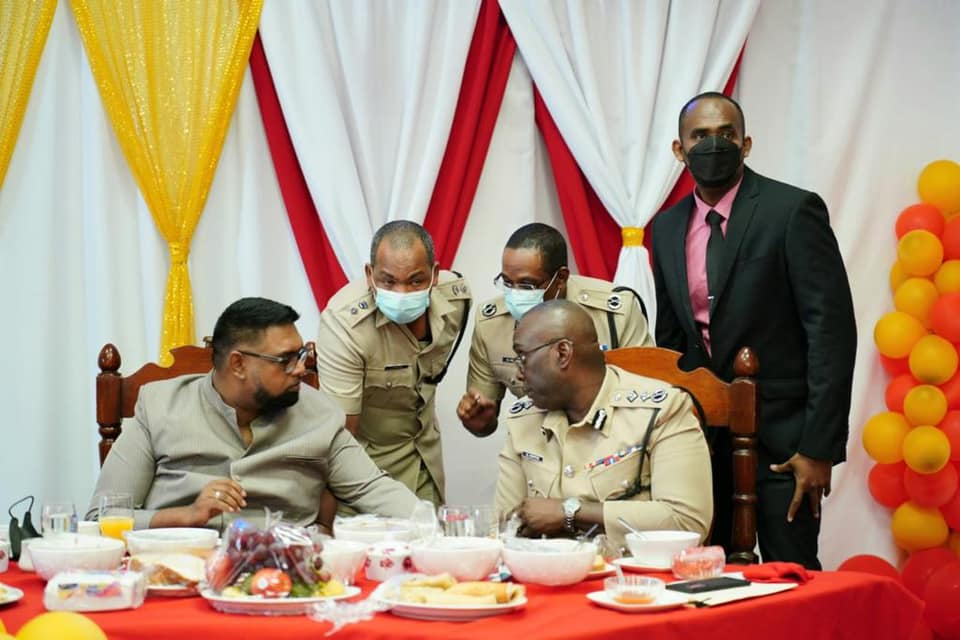 "We are in this together and that is why one of the important pillars of this administration is education and I have already spoken to the leadership of the Police Force and I have said that for every person that is a Commander of a Branch or Division, we will pay in full for improvement in their education…you must at least pursue a degree and those who have already have a degree, next year we will enroll you in a Master's Programme for Defence Studies", the President announced.
It was also announced that the top 50 ranks who will be awarded for their outstanding work in the Force will also be given educational opportunities. 
The President said that moving forward, the Government plans more major investment in the Police Force and those who serve in the Force.
The Guyana Police Force remains without a substantive Police Commissioner and there are a number of Officers performing the functions of Deputy Commissioners.  There is no Police Service Commission currently in place.