Director of Prisons Gladwin Samuels has reminded Prison officers across the country of the Guyanese proverb: "Moon ah run til day ketch um," as he warned against the continued smuggling of contraband into the jailhouse with a stern promise to prosecute anyone found in the act.
In a letter dispatched to prison wardens, the Director of Prisons expressed grave concern over the continued smuggling of contraband including cellular phones, marijuana and local wine into the prisons.
He said over the past few weeks, despite regular searches, authorities continue to unearth various forms of contraband.
"This should be cause for concern for each and every one of us as it brings into question our commitment to the service, the security of the prison, and by extension the security of the nation. Make no mistake about it, our security is at risk when we allow these items in," he said.
Samuels said it is likely that prisoners themselves are using their bodies to conceal the items and traffic it into the prisons but he wants his officers not to support this type of illegal activity.
"If we support them and their families in contravening the laws of the prison, we are not helping them; we are in fact condoning the very activities that caused them to be in prison in the first place; we are telling them it is ok to be lawless. We are setting them up for a continued life of crime and failure. Worse, we are showing them that we are no better than they are."
The Director warned that the trade of contraband, while it may seem profitable initially, is bad for the prison environment and it creates conflict, breeds jealousy and distrust and causes power struggles.
Samuels said he believes too that while many Prison Officers are not directly involved in trafficking of contraband, they are aware of others who are.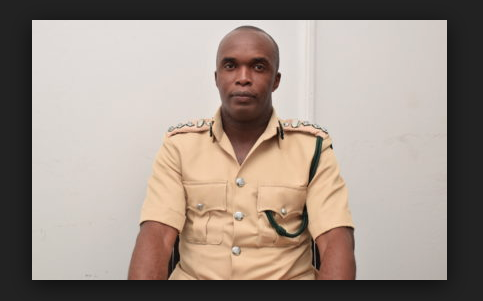 To that end, he implores: "when you know your fellow officers are breaking the law and you remain silent, you are as guilty as they are. The dangers their acts bring to the Prison environment also expose you to additional risk. But Prison Officers should not be putting their fellow Officers at risk. What about our motto Together in Service?"
Samuels said he is particularly concerned with the movement of contraband into the Mazaruni Prison, which is a maximum security prison, making it is worst because of the extent of the collision that is needed for many contraband items to get into the prison.
"It is as simple as this. If the prisoners are bringing it, then the quality of the searches conducted is poor… some persons may be bringing the items in because of sympathy… some persons are being paid to allow the items to get in."
The Prison Director said this cannot be allowed to continue where for a few dollars more in the pockets of a few, criminal acts are committed that bring into question the integrity of all of us in the prison service, and can result in loss of an honest job and put fellow officers at risk.
"Getting rid of contraband in prison cannot be a fight by a few. Collective effort is required." he noted.
The Camp Street jail was gutted by fire last year after prisoners set blaze during a protest action. A number of prisoners also escaped during that fire and a prison officer was shot dead.