Four Prison Officers, who are suspected to have colluded with prisoners to get prohibited items into the Lusignan prison are to face charges.
Acting Director of Prisons, Gladwin Samuels today said based on reports conducted and investigations carried out, Prison Officers worked together to smuggle a bottle of rum and a pack of cigarettes into the jail house. He said the prohibited items were smuggled into the prison for use by the prisoners.
Mr. Samuels announced that the four prison officers have been interdicted from duty and will face charges.
He explained that when prison officers work together to get prohibited items into the prisons, it becomes difficult to detect those items.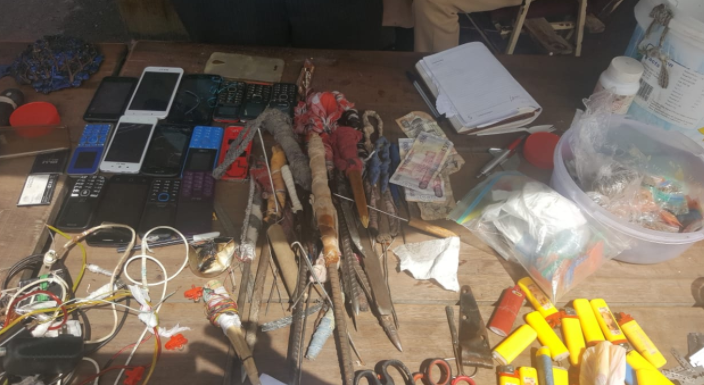 "The Standard Operating Procedures would see Prison Officers conducting searches to verify that persons are without banned items when entering the Prisons. This system will only be effective when there is no collusion", he said.
The Prison Director said there must be a firm stand against the smuggling of banned items into prisons.
Just yesterday, a search was conducted at the Lusignan Prison Holding Bays and the authorities found 18 cellphones,15 sim cards, a tattoo machine, 5 pairs of scissors, 48 improvised weapons, 85 grams of cannabis, a quantity of chargers, 1 knife,1 chopper,and a quantity of razor blades and other items.
Over the past few months, several other searches at the Prisons unearthed a number of other illegal items.