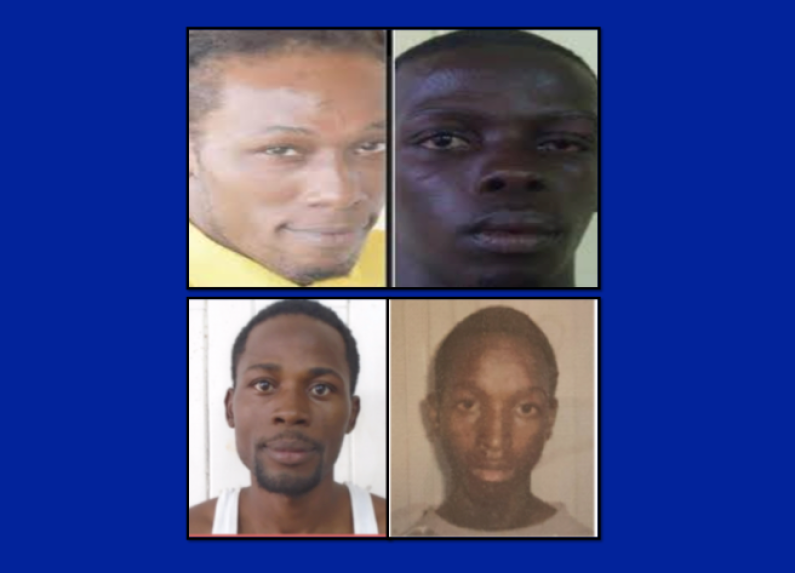 The manhunt for the four remaining prison escapees continues with the police reporting exceptional cooperation from the public, Police Commissioner Seelall Persaud has reported.
Persaud said according to intelligence, that the police has received, the four escapees are all separated and hiding out individually.
He said intelligence led operations yesterday led them to Linden where one person was arrested, but the person was not one of the escapees.
Additionally, Seelall reported that police came into confrontation with Stayfrie Alexander on Thursday in Port Mourant, Berbice.
The Police Commissioner said the fugitive is still in Berbice and urged residents to be alert and report any suspicious sightings to the police.
Alexander is believed to be shot and injured.
The others are Bartica and Lusignan massacre killer Mark Royden Williams, Ex-cop Uree Varswyck, and Cobena Stephens.
Seelall said the cooperation from the public has been great and appealed for citizens to support police operations.
Police have already arrested Desmond James and Corneilus Thomas.
James reportedly told police that he received money from a fellow escapee which he used to pay public transportation to get to the West Coast where he was arrested.
Meanwhile, Public Security Minister Khemraj Ramjattan today provided an update on the relocation of those displaced prisoners and the reconstruction of the fire ravaged Camp Street Prison.
He said the tarmac area next door to the Lusignan Prison is complete and some 400 prisoners have been transferred to that area.
However, some 90 prisoners remain in the swamped field even as efforts continue to upgrade that area.
Ramjattan said they will not be moved to the tarmac area amid fears of contamination.
"This is necessary because we do not want them to contaminate the others. These are the real bad ones," he said.
It is the plan of the government and prison service to move those 90 prisoners back to the Camp Street Facility.
Works are ongoing to remove the debris and the government plans to go to Parliament for funds to commenced reconstruction.
Along with advanced security infrastructure, there are plans to build a kitchen, administrative building, and an infirmary.
Ramjattan said the total cost for relocating the prisoners is pegged at above $500 million.
The works are expected to take three months for completion but in the meantime, the assurance has been given to ensure that the prisoners in the swamped area are afforded better shelter, food and healthcare.