Two days after the Private Sector Commission objected to the appointment of businesswoman, Allison Butters-Grant's appointment to the University of Guyana Council, the Georgetown Chamber of Commerce and Industry has come out in full support of the businesswoman and longstanding member of the GCCI.
In a statement on Friday, the PSC said it is "extremely disappointed with regards to the appointment of the representative of business on the  Council of the University of Guyana."
The PSC believed that its nominee should have been given the seat on the Council and not the GCCI member.
Allison Butters-Grant who is a longstanding member of the GCCI emerged as the chosen member for the new UG Council.
The PSC said for the past 25 years, its nominee had always been chosen and it was important "that the voice of the PSC which is the umbrella Private Sector Organisation for business to be represented on the council".
The Chamber of Commerce shot back today, saying that the PSC's statement on Friday was unwarranted.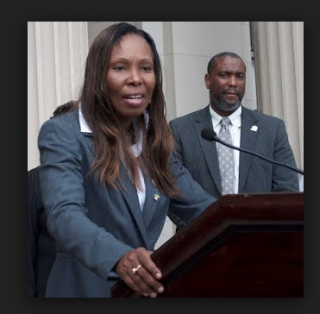 "The Georgetown Chamber of Commerce & Industry (GCCI) wishes to give its support to Ms. Allison Butters-Grant of Global Seafoods Distributors Inc. The GCCI has taken note of recent negative press regarding the appointment of Ms. Butters-Grant to the University of Guyana Council. Ms. Butters-Grant is the immediate past secretary of the Chamber and has laboured for the Chamber in this capacity as well as a past Councillor. She has served the Chamber in a positive way and has distinguished herself as a member of the Chamber. As such, we have full confidence in her ability to discharge the duties of a Councilor of the University of Guyana".
According to  the GCCI, the University of Guyana Act 1963, Section 13, subsection 2 (j) speaks to 'four (4) persons to be nominated by such non-governmental organisations as in the opinion of the Minister are most representative of the interests of Women, Farmers, Amerinidians and Business.'
It said based on the current law, the Minister was within her authority to select a person that she sees fit to serve in the capacity of Councillor of University of Guyana representing the business community.
Other leading members of the private sector have also publicly chastised the PSC over its criticism of the appointment of Allison Butters-Grant who is the CEO and Managing Director of Global Seafoods, which is one of the largest fisheries companies in Guyana.